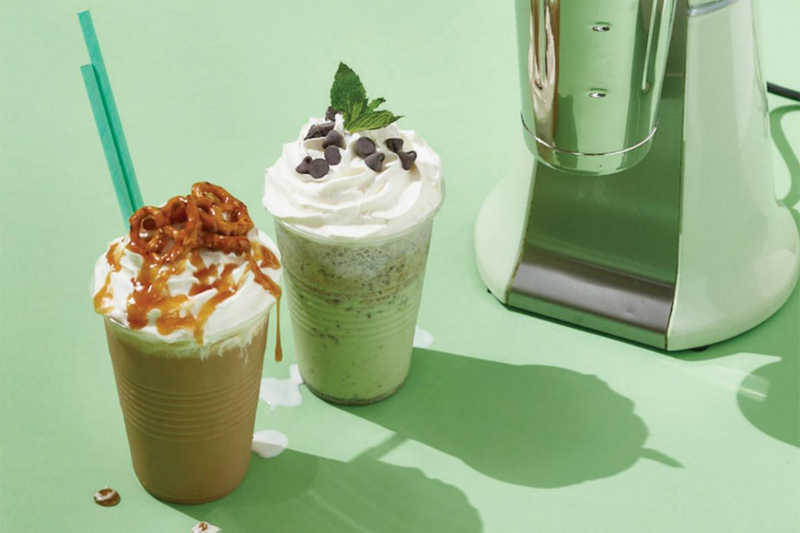 We're melting like a misunderstood witch today in Melbourne. But that simply gives eternal, glass-is-half-full optimists a reason to sip something icy…
Which brings us to the lovely duo Shannon Martinez and Mo Wyse – of the wonderful vegan hotspots Smith & Daughters and Smith & Deli in Fitzroy – who released a recipe book late last year. How could they have titled it anything but Smith & Deli-cious? Naturally, I'd flip immediately to the 'Tasty Drinks' section: really need to experiment with their 'Jalapeno Limeade' or 'Lenny's Peanut Butter Dream' drink recipes a.s.a.p! But for now, they've kindly shared the secrets to their frosty 'Salty Caramel Pretzel Shake' (and allowed me to adapt it slightly into boozy form). Shannon and Mo recommend using vegan versions of ice-cream, milk and cream for this one.
This is a super easy cocktail treat for sweltering days. Check out that decadent ingredient list – this grown up shake can't help but be addictive!
– Salty Caramel Pretzel Shake from Smith & Deli-cious –
– Ingredients –
2 scoops ice cream
2 1/2 Tbs chocolate powder
1 1/2 Tbs caramel sauce, plus extra to garnish
80g pretzels, plus extra to garnish
100ml non-dairy milk
2 handfuls of ice
2 Tbs your favourite "dessert" liqueur (try Marionette's upcoming Amaretto or Brookie's Mac.; nuttiness pairs well with chocolate, caramel, salt and pretzel flavours)
whipped cream, to garnish
– Method –
Combine all ingredients, except the ice, in a blender and pulse until smooth. Add the ice cubes and blend until thick and smooth, but don't overblend! Pour into a glass, top with whipped cream and caramel sauce, and garnish with pretzels.
–
Find out where to get your copy of Smith & Deli-cious: Food From Our Deli (That Happens to be Vegan) by Shannon Martinez and Mo Wyse RRP$50 here.