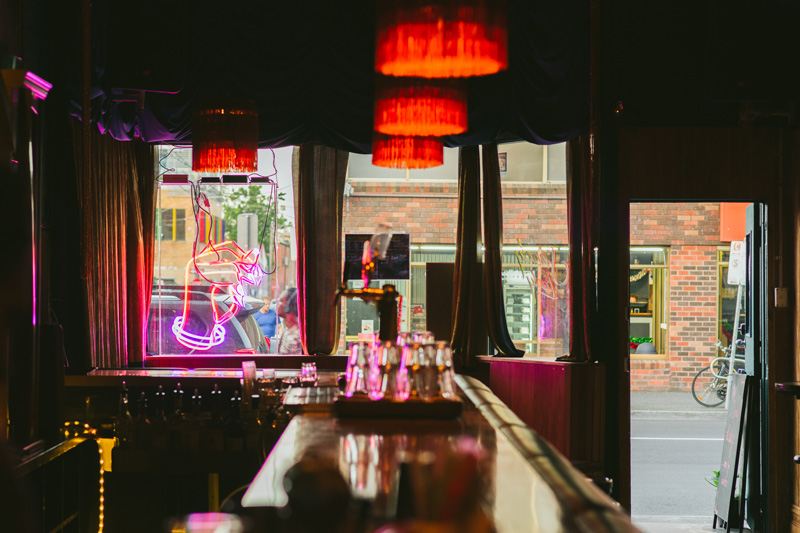 If "try new things in 2018" was one of your New Year's resolutions, we have a few suggestions for you. Check out the 11 newest Melbourne bars you should visit this January. Missed last month's openings? Catch up here.
—
The Shady Lady
The Shady Lady (pictured above) is made up of a few of our favourite things; the 70s, liquor, and lady powers. This female-led dive bar features frozen cocktails and tinnies among a decor of fringed lampshades and retro velvet. Pooches welcome – they may particularly enjoy the beer garden out back.
36 Johnson Street, Fitzroy
–
Supafish
Drink like a fish, in a fish. Like some Moby Dick fever-dream from the Ponyfish Island team, Supafish is an oversided, glow-in-the-dark, fish-shaped bar swimming atop the Yarra River. Once inside you'll find Mexican bites and spiked kombucha. It's floating now until the end of Feb.
Sandridge Bridge, Southbank
–
Reed & Co. Distillery
This new distillery and bar from the duo behind the Alpine Valley's much-loved, late Tani Eat and Drink is now home to Remedy dry gin. At Reed & Co.  you'll find a roadtrip-worthy lunch destination, martinis and a pretty little still called Molly.
15 Wills Street, Bright
–
Village Belle Hotel
You won't believe what the Village Belle has done with an old carpark. On one side the classic public bar remains. The other has been transformed into an expansive, open-air, greenhouse-adjacent atrium with several distinct bars plus a balcony and moody lounge. They make a mean espresso martini too (it's floated with a meringue toasted for you on the spot).
202 Barkly Street, St Kilda
–
Bar Tini
No more need to wait for a seat at Movida. Frank Camorra presents a charming little slice of Spain with Bar Tini. Modelled after traditional bodegas, the bar is splashed in evocative red and white and plays host to snackable seafood and above par tapas. Enjoy them alongside intriguing sherry-spiked cocktails and probably too much cava. They hope to soon sell a few bottles of vermut, etc to go from here too.
3-5 Hosier Lane, Melbourne 
–
Also worth a sip: The Roy (Fitzroy) is a new sports bar behind Polly with jukebox soundtrack, plenty of beer and the requisite balls flying on the telly / Check out the sprawling fireplace as you sip Champagne Devaux at new designer wine bar Finch & Jane (Balwyn) / We love the concept of The Sea Turtle Club (Fitzroy) a tiki bar above The Rum Diary Bar; it's all about sustainable drinking and creating less waste to keep oceans clean. No plastic straws here. Tips for turtles too. / Bar, Italian diner and bottleshop Harley and Rose (Footscray) is here to serve Westsiders with pizza, lots of French and local vino and reborn White Russians. / With yet another rock and roll inspired moniker, the already buzzy steakhouse Angus & Bon (Prahran) hopes to get famous for their bottomless weekend brunches. Bellinis: come at us. / The Adelphi Rooftop (Melbourne) pool-deck has had a crisp refresh just in time for deep summer plus they are about to unveil a Friday night gin collab. / Stay tuned to our Instagram for more newness as it happens.
—
Other new good things: Tasmania's Antarctic Ice Co. has launched, crafting perfectly clear ice (similar to the wonderful stuff Navy Strength Ice Co. makes) for cocktails and sculptures, so now our southern neighbours can enjoy clarity in their cups.  / We still miss Du Nord bar. But we were pleased to discover Batch & Co's thoughtful cocktail mixers developed by Du Nord's own Thomas Kiltorp. They've just released the two founding flavours – craft cocktails at home are now as simple as adding a splash of your favourite tipple. / Monsieur Cocktail sounds like a delicious new concept whereby cocktail degustations, inspired by native ingredients, are theatrically presented in your home by your own private bartender.
Got some news and want us to spread the word? Drop us a line sometime: sarah@drinkmelbourne.com.au
Angus & Bon
Monsieur Cocktail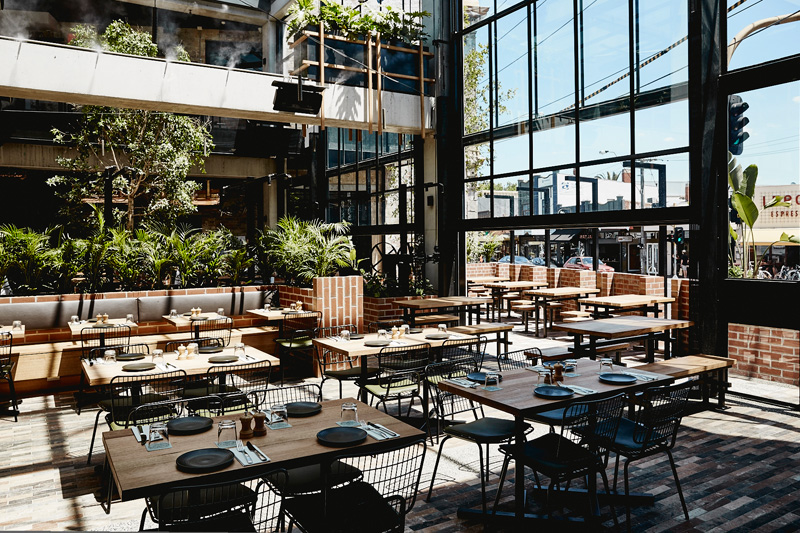 Village Belle Hotel
Supafish
Finch & Jane
Bar Tini