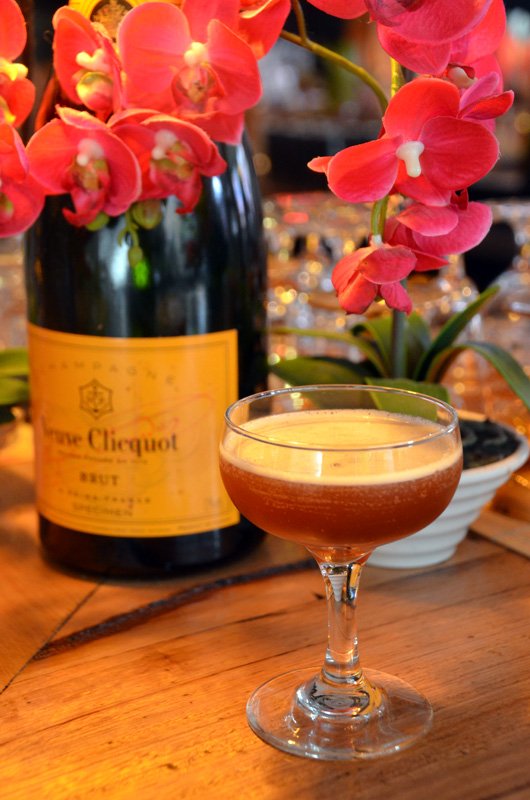 Blood. Sand. Two things I generally don't want in my mouth. Yet Saigon Sally's Michael Forbes and Mick Formosa convinced me otherwise with an invitation to their recent Winter whisky cocktail class at the Windsor backstreet bar. Inspired by 1920's sex symbol, silent film star Rudolph Valentino and his movie of the same name, the Blood and Sand cocktail is a fantastic choice to make for a party because it's unfussy and so darn easy to make it taste professional at home. Here's how below. Of course Mick laments "we'd really prefer if you'd come in and have us make it for you" (that way you might also be lucky to score Sally's pastry chef  Felix Goodwin's intriguing lime sable eclair filled with kafir lime and pineapple gel on the side).
Blood & Sand
20ml Whiskey (We used Glenmorangie Lasanta because it's aged in sherry casks in keeping with the drink's Spanish origins. And because Mick is an ambassador for the label).
20ml red vermouth, try Antica Formula Rosso
20ml cherry liqueur, try Cherry Heering
20ml freshly squeezed orange juice (traditionally blood orange, but regular O.J. is totally fine)
Place all ingredients in a Boston Glass. Add lots of ice. Put the top on and shake ("use your elbows!" commands Mick). Strain into a coupette martini glass.
Stay tuned. I'll have details on future cocktail masterclasses from Saigon Sally at 2 Duke Street, Windsor shortly.