Today I'm featuring two cocktail recipes. One to see you through the fading days of Dry July (because bitters don't count) and the other to ease you gently back into the less virtuous life!
Drink makers and shakers Shaun Byrne (Marionette, Maidenii, Good Measure) and Nick Tesar (Marionette, Bar Liberty, ex-Bar Lume) have kindly shared these recipes from their new tome 'All Day Cocktails: Low (and No) Alcohol Magic'. It's full of original, low and zero-proof cocktail recipes that are engrossing and complex enough to stave off the boredom that booze typically remedies. The book is so of-the-moment and so damn gorgeous that I kind of hate the authors a little bit now (but I do adore their ideas below). Be forewarned the recipes can be a bit intense but you can, of course, cheat by simply buying some ingredients such as the bitters and orgeat. Or pre-plan and make a project out of learning something handy, healthy, environmentally-minded and, most of all, tasty.
If you'd like to learn more about low ABV cocktails, you can join Shaun and Nick to celebrate their book launch at Worksmith Ella too.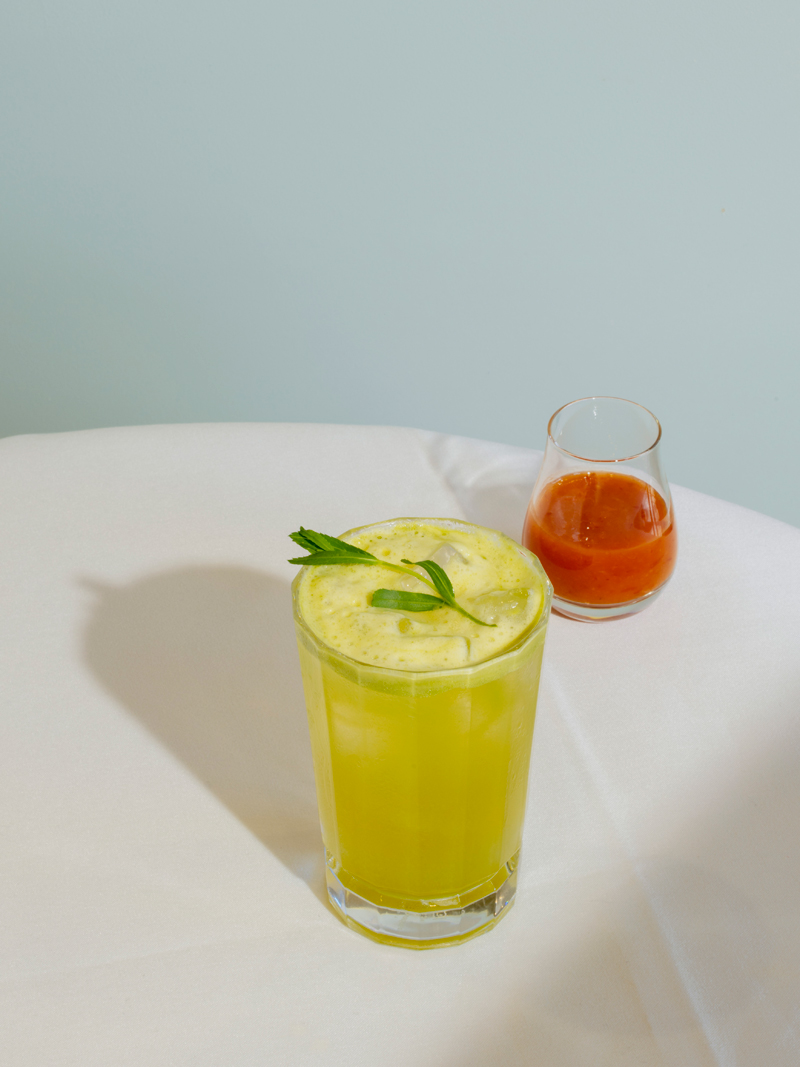 Green & Dry
Absinthe is often referred to as the green fairy. Over the years, the green fairy has attracted a lot of myth and fanfare – a creature embodying artistic liberty and a free lifestyle. The relation here is that absinthe is produced with artemisia absinthium, or the common wormwood, of which tarragon (artemisia dracunculus) is closely related. This riff is one of our favourite low-alcohol combinations: ginger ale with vegetal celery juice standing in for vermouth.
60 ml (2 fl oz) acidulated celery juice (below)
2 dashes of orange bitters (below)
90 ml (3 fl oz) dry ginger ale
ice cubes, to serve
2 tarragon sprigs, to garnish
hot sauce, to serve
Combine the juice, orange bitters and ginger ale in a highball glass, stir gently, then add ice and garnish with the tarragon. Serve with hot sauce on the side, just in case a little extra kick is required.
Acidulated Celery Juice
500g celery stalks
15ml apple-cider vinegar
10g citric acid
pinch of salt
Juice the celery in a centrifugal juicer , then strain it through a fine-mesh sieve and combine with the remaining ingredients in a sterilised glass bottle. Seal with a lid and give it a good shake to combine and dissolve. This will keep in the fridge for 2 days. Makes approx. 500ml.
Orange Bitters
For the spiced orange soak
200ml 95 per cent spirit (see note)
100g bitter orange zest
10g cacao nibs
10g coriander seeds
5g angelica root
1 cinnamon stick
Combine all the ingredients in a sealable jar with 50ml water. Leave it somewhere visible so it doesn't slip your mind, and shake it once a day for a month. Strain through a coffee filter, paper towel or clean, disposable cloth and store in the fridge. Sealed, the soak will keep for at least 1 year in the fridge. Note: You can buy 95 per cent spirit (also known as rectified spirit) from your friendly local distiller or online.
For the bittered water
100 g brown sugar
5g gentian root
Once the soak is ready, prepare the bittered water. Combine the gentian root and sugar in a saucepan with 500ml water and heat gently. Simmer until the liquid has reduced by half, then strain through a coffee filter, paper towel or clean, disposable cloth.
To make Orange Bitters, mix bittered water with the strained orange soak and pour into a sterilised glass bottle. Makes 500ml.
—
Japanese Tiki-style Drink
The name of this cocktail says it all, really – a tropical combination of ingredients set to confuse and wow your palate. A lot of tiki drinks call for rum, but this one calls for what rum is made of: molasses, along with the usual citrus suspects and a little orgeat for good measure.
45ml nashishu (below)
30ml pineapple juice
30ml orange juice
10ml orgeat (below)
5ml rosemary honey (below)
5ml citric solution (below)
ice cubes, for shaking
crushed ice, to serve
flamed rosemary, to garnish
Combine all the ingredients in a shaker with ice. Put on your loudest shirt and shake vigorously – the drink, that is. Strain into a Collins glass over crushed ice, then garnish with flamed rosemary. Close your eyes and pretend you're on the beach.
Nashishu
5 nashi pears
700ml sake
100g caster sugar
10g malic acid (see note)
Segment the nashis and place them in a container with the sake. Seal, refrigerate for 3 days, then strain the sake and set aside. Add the nashi fruit, sugar and 50ml water to a saucepan set over a medium heat and simmer for 30 minutes. Strain off the cooking liquid, add the malic acid and allow to cool. Compost the nashi fruit. Combine the nashi syrup and the sake, then transfer to a sterilised glass bottle. It will keep for up to 1 month in the fridge. Note: Malic acid is available from specialist cookery stores, or online. Makes approx. 800ml.
Orgeat
300g blanched almonds
800g caster sugar
5ml orange-blossom water
Blitz the almonds to small chunks in a food processor. Add to a saucepan with 1.5 litres water and simmer over a medium heat for 30 minutes. Strain through a piece of muslin (cheesecloth), then combine the liquid with the sugar and orange-blossom water and stir to dissolve. The orgeat will keep for 2 weeks in the fridge. Makes 1.2 litres.
Rosemary Honey
400g strong local honey
7 rosemary sprigs
pinch of sea salt
Combine all the ingredients in a saucepan with 100ml water. Bring to a gentle simmer and cook for 10 minutes. Remove from the heat and allow to cool, then strain and pour into a sterilised glass jar. Store for up to 6 months. Makes approx. 400g.
Citric Solution
A great correcting solution when citrus isn't in season and you need to get a little more acid into your beverage. To make, simply dissolve one part citric acid in five parts water. There is no need for heat here. You can also experiment with different types of acid, such as tartaric (from grapes) and malic (from apples) for different effects.
—
This is an edited extract from All Day Cocktails by Shaun Byrne & Nick Tesar published by Hardie Grant Books (RRP $34.99) and is available in stores nationally from August 1st.
Find more original cocktail recipes here.