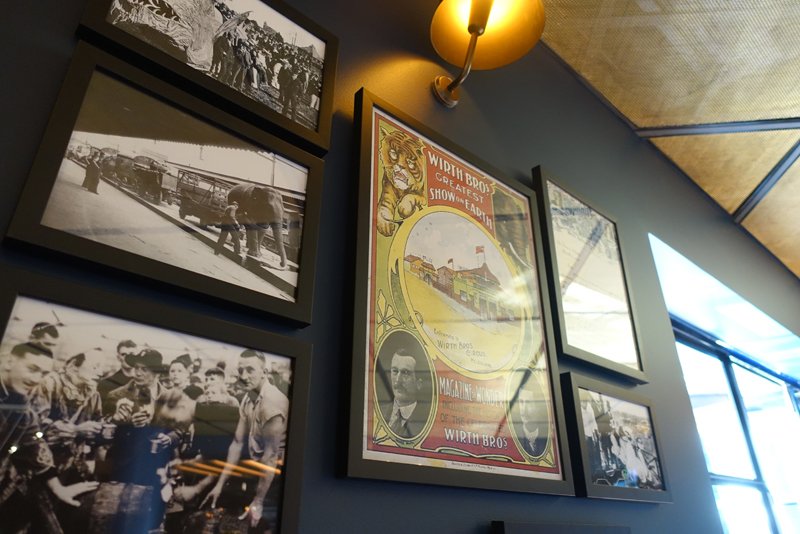 Did you know Melbourne used to have a giant motorised water chute that you could ride by the Yarra? In the early 1900's, Melburnian thrill seekers would zip down the wooden construction – in all of their plumage and finery no less – to splash down and aquaplane across a pool at the bottom. Around the same time the prominent Wirth's Circus, named for the Bavarian brothers who founded it, was based where the Arts Centre stands now. A Japanese tea house, ice skating rink and dance hall added to the festivities. A new bar pays homage to this heritage and, in attempting to replicate this "adventure playground for adults", provides another legitimate place to seek cocktails in Southbank (see also: The Den, The Waiting Room and Sake). A very short hop across the Princes Bridge takes one to Waterslide.
Venue Manager and barman (think of him as this circus' ringmaster) Tim Wastell (ex-Blue Diamond, The Saint, Rockpool Perth) says "we just became fascinated with the whole history of the area, with what had gone on before". In the late 1800s and early 1900s it apparently wasn't uncommon to see elephants and zebras walking down Swanston St, a situation "which hasn't changed much, it's just a different kind of animal" observes Tim wryly. The interior subtly reflects this carnivalesque vibe via swinging lounges, rocking chairs, rich velvet, interactive menus and a theatrical colour palette.
Tim oversees a signature cocktail menu designed by Fred Siggins (The Black Pearl), an extensive backbar including tricky-to-find and exclusive bottles and a 50-strong wine list. "I wanted this to be a bar that did everything well. I was sick to death of walking into a wine bar and asking for a cocktail to be told 'no, we don't do that' when I can see they've got some gin, I can see they've got some Campari. And I'd be equally upset about going into a cocktail bar and asking for a decent glass of un-wooded Chardonnay for them to say 'we don't have anything'. I think it's beyond rude." The aim here is to be crowd-pleasing, without sacrificing standards. Waterslide make their own tonic water, ginger beer and falernum and hand cut ice. "When people get together I want someone to say 'I go there for the cocktails', the next to say 'well, I go there for the Japanese whiskey selection' and someone to say 'I go for the Hargreaves Hill ESB on tap'.
But they don't want you to take Waterslide too seriously. "A bar's, a bar. you don't need an excuse to open a bar because people drink, people drink and people eat" thinks Tim. Come summer, promenading by the river and stopping in for a drink now seems like a rather grand prospect.
Ride the Waterslide at Southgate, 26 Southgate Avenue, Southbank.