Be sure to meet your friends at these 12 new Melbourne bars over the Summer holidays…
This Champagne and lobster bar is an appropriately salmon-pink palace with two bars to choose from, including an outside terrace overlooking the leafy Bourke streetscape. Cocktails here are mostly designed to pair with seafood so expect salt, zing and fizz. Naturally, the Veuve Clicquot is a-flowin'. Bar bites by chef Pierre Khodja are focused on sustainable seafood and are a wee bit fancy. Freshly-shucked oysters + Champagne: what better combo is there?
Level 1, 200 Bourke Street, Melbourne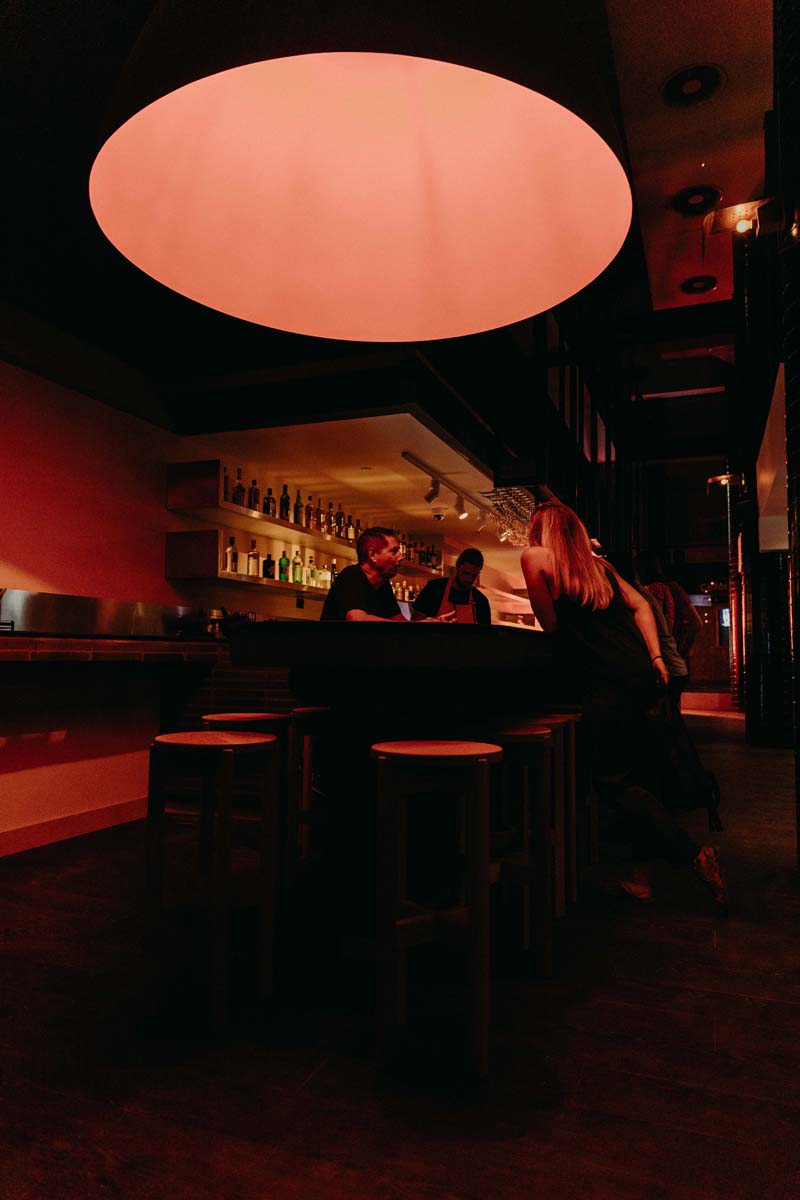 A former cafe has been turned into this minimalist Japanese bar, lit up in red in Tokyo-esque fashion by night. A natural take on minimilism influences the interiors by Kennon (they designed the Yukie spaces at Mr Miyagi too) with soft timbers, earthy leather and glowing paper lanterns. Citizen also boasts the coldest beer in Australia with Asahi on tap at minus 2.2 degrees. Snack on late-night specialty rice and noodle bowls over a few frothy, (very) cold ones.
15 Dukes Walk, South Wharf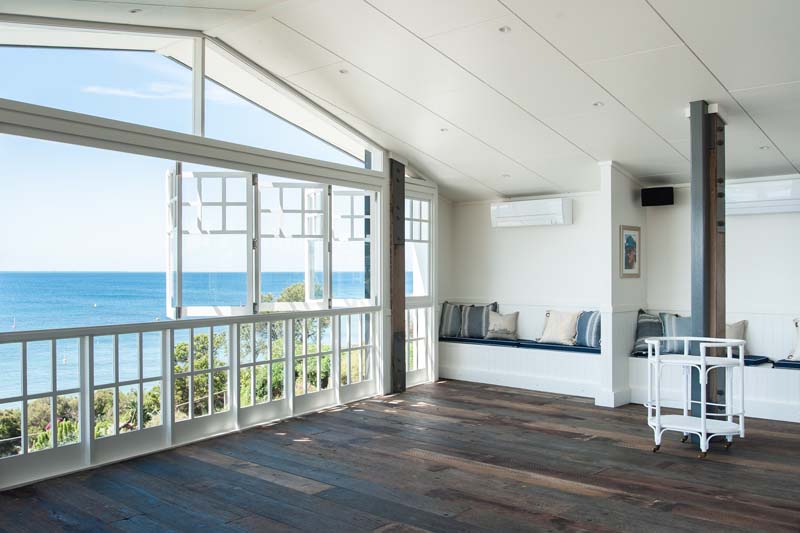 After year long renovations the Portsea Hotel has finally put the finishing touches on its revamp, including six new bars within the space. On the upper level Bertand Bar – once reserved for private functions – is now open for all. Updated with appropriately refined beach styling by Anna Roberts, the bar offers a breezy atmosphere with unsurpassed views of the bay. Dream of spritzing over sunset and then sipping sparkling with the stars after dark. Image: Samantha Schultz
Level 2, 3746 Point Nepean Rd, Portsea
The Mister Bianco/Massi team have opened this relaxed, pop-up wine bar (which runs only until early February 2020) full of eclectic art, tiling and furniture. The bar is an ode to the southern Italian island destinations of Sicily and Sardinia. So expect carafes of biodynamic wine, Italian craft beers and plenty of opportunity for aperitivo hour on the menu, of course. Image: Tess Kelly
28 Railway Place, Fairfield
After moving on from their original Brunswick home, gin distillers Patient Wolf have finally – officially – opened the door to their bar to become the latest conveniently-located urban distillery in Melbourne. Their modernised warehouse space is home to the full gin range of Melbourne Dry, Summer Thyme and Blackthorn gins plus future exclusive and limited releases. Pull up a stool to sip seasonal, twist and classic juniper cocktails at their new seven metre+ brass-topped bar.
34-36 Market St, Southbank
First came Loop. Then Loop Roof. Now there's Loop Top. Extending the existing rooftop bar to two levels, Loop Top is decked out in summery blue and yellow umbrellas and furnishings. And there's plenty of green as the space plays host to an urban garden growing aloe, prickly pear, bougainvillea plus other leafy friends. Check out their Spritz-filled cocktail menu (hello, salted caramel peach spritz) while you contemplate your lack of green thumb in the sunshine. Image: Eugene Hyland
Rooftop, 23 Meyers Place, Melbourne
This expansive beer garden -which reminds me of an airplane hangar – hosts all of 4 Pines brews on tap including some venue exclusives, dietary inclusive food trucks and doggies! The concept has one eye on sustainability with compost and waste programs, reclaimed materials used in the design and (eventually, hopefully) 100% solar power. A working brewery on-site will commence operations in 2020.
1 Frith Street, Brunswick
Rufus (named for Winston Churchill's poodle) left us unexpectedly after too short a time in 2018 with promises to return someday. And it finally has…in the same location, too! The offering is much the same as the previous incarnation – the bar's drinks "butlers" have even been trained by the originals – with a little extra in terms of new lead-light windows and gilded artwork. This places make a mean Churchill Martini ie. no vermouth, simply gin and olives that when made properly, as per here, the whole surpasses the parts.
1st floor, 143 Greville Street, Prahran
View this post on Instagram
This might be the most Melbourne thing of the year. The team from Ferdydurke, Section 8 and Globe Alley have officially opened an open air art gallery, urban garden and Airstream caravan bar in a disused Chinatown parking lot. Scattered native vegetation has been installed and an ever changing line-up of artworks, performances (DJs play live across extended weekends), creative events and food trucks is on the menu.
132-140 Little Bourke Street, Melbourne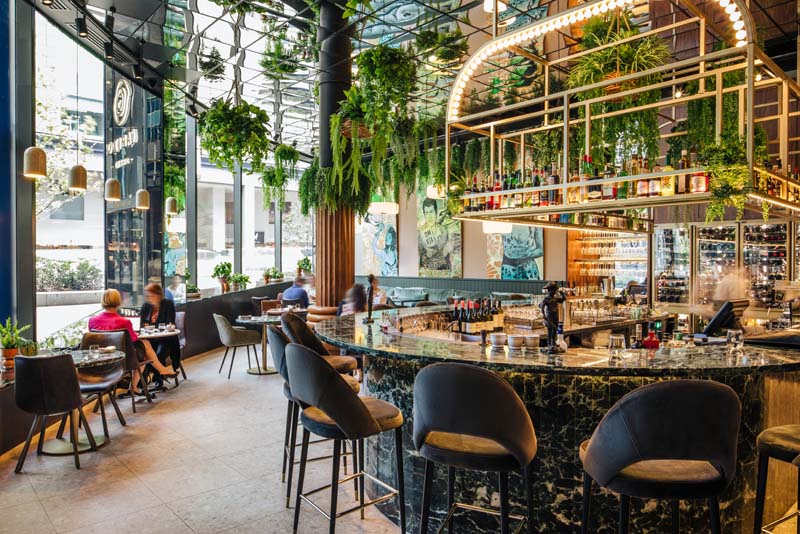 Moving into its permanent home after an experimental pop-up period, Omnia has now taken up up residence at Capitol Grand. A curved jade marble bar within the bistro sits under a canopy of greenery and brass. It offers plant-inspired cocktails by leading Melbourne bartender Orlando Marzo and views of Bromley artworks while the rest of the Euro-centric venue enjoys custom trolley service. Image: James Morgan
625 Chapel Street, South Yarra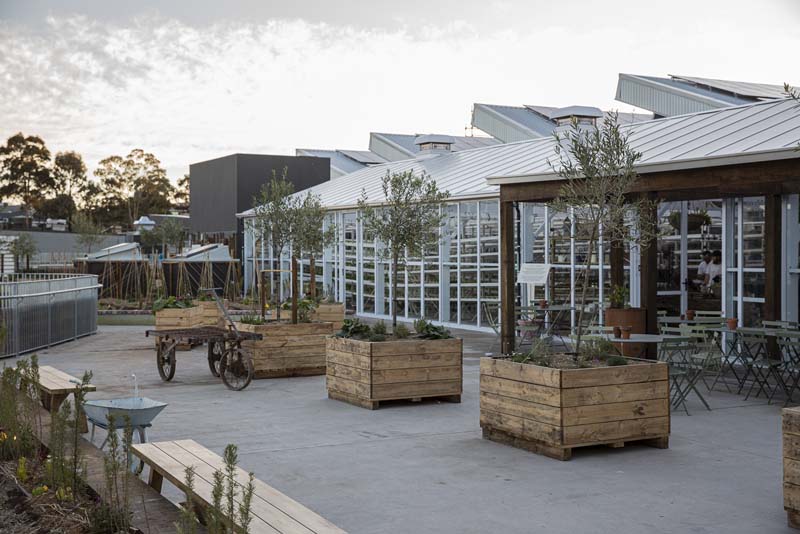 This produce-driven bar (and eatery) sits within a leafy new rooftop farm in the suburbs (atop a sustainable shopping hub no less). We're betting you're not likely to find a fresher cocktail garnish anywhere, than freshly plucked from the earth here. They even have their own quail house and bees! Celebrating local flavours, their wine list is all-Victorian and Acre has even developed its own seasonal beer with 3 Ravens to celebrate their arrival.
70 Middleborough Road, Burwood East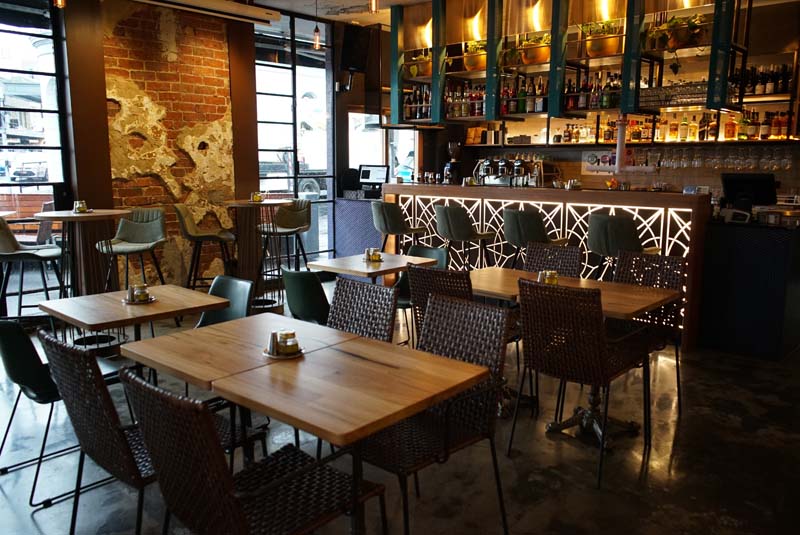 Named after a ship (that in turn named the suburb), the Lady of St Kilda embraces its location and heritage with maritime imagery scrawled upon her walls and ceiling. Pull up a stool at the compass motif bar for seafaring sips like the 'Tipsy Sailor', 'Captains Delight' or 'First Mate' over Mediterranean snacks like house-made pita and olives.
204 Barkly Street, St Kilda
+ BAR NEWS
• Capi has unveiled Soda+; mixers with no sugar (yay!) or sweeteners (double yay) but flavoured with citrus and herbs. The debut trio is lemon and basil, blood orange and Sage and grapefruit and rosemary
• Please sign this pups in pubs petition!
• Congratulations to Four Pillars for winning International Gin Producer of the Year at the 50th Annual International Wine and Spirits Competition in London. Basically, they're the world's best gin.
• There's a new sustainably-minded distillery in town. Based in Spotswood, Autonomy Distillers' debut release is an amaro (bitter herbal digestif) made with native Australian botanicals. They re-purpose bottles from venues, use peels from fruit that's been juiced and source other ingredients locally to reduce food miles.
• Doing some last minute stocking up for Xmas? Pop Baker Williams' Hay Bale Gin and Alchemy's Ocean Gin on your list. $10 from every bottle of the former goes to 200 bales to help farmers doing it tough in the drought. While 100% of the profits of the latter go to Sea Shepherd's marine conservation efforts.
• Want something worthwhile to listen to over the holiday break or on a long Summer roadtrip? Nip of Courage has released The Aussie Spirit podcast that explores everything from the local history of spirits making to sustainable sips to inspiration on how to start your very own distillery.
• Finally, if you only do one thing on this list please do check out, follow and spread the word about The Aussie Spirit Auction (unrelated to the above). The Auction is coming in February 2020 to help rural communities afflicted by drought and bushfire via Rural Aid. Even if you can't bid on some delicious Australian craft spirits, every little bit helps!