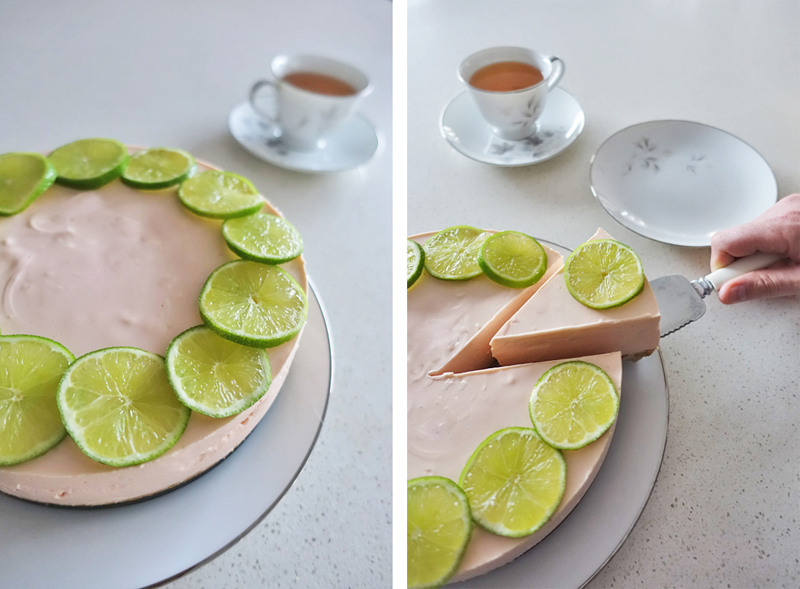 This blushingly pink cheesecake is rather grown up and surprisingly dry in flavour (you can add extra sugar to taste if you're a sweet-tooth). You can really taste the gin and tonic in this one so be sure to use a punchy gin with plenty of character to hold up to all that luscious creamy cheese. I chose Imbue's gin this time because it has lot of locally foraged botanicals -like dandelion, prickly pear, blackberry and fennel – and the idea of bringing the "backyard" into the kitchen was a nice way to spend a baking weekend.
– Pink G&T Cheesecake –
– Ingredients –
300g of your favourite crumbly sweet biscuits (eg. digestives, gingernuts, chocolate ripple)
150g butter
80ml gin – I used Imbue's Sub-urban gin
80ml sloe gin – I used Nonesuch
125ml tonic water – I used Strangelove's Tonic No. 8
6 gelatine leaves
600g cream cheese
300ml double cream
100g icing sugar
Juice of half a Lime
gin, extra, to garnish
lime slices, to garnish
– Method –
Blitz the biscuits in a food processor until they become crumbs. Melt the butter and then mix into the biscuits. Lightly grease a 20cm springform pan. Press crumb mixture into the base and refrigerate.
Soak gelatine leaves in cold water. Add gin, sloe gin and tonic water to a small pan and heat until just below a simmer (you don't want to burn off all of the alcohol). Squeeze excess water from gelatine leaves and add leaves to G&T mixture. Immediately remove from heat and stir until gelatine is dissolved. Cool.
In a stand mixer blend the cream cheese, icing sugar, cream and lime juice until smooth. Continue whisking, slowly pour in the G&T mixture until smooth. Pour over biscuit base and refrigerate over night.
To decorate. briefly soak slices of lime in the extra gin and pat dry. Place on top of cheesecake. Serve cake alongside teacups brimming with G&T, spiked with a generous drop of sloe gin and a slice of lime.