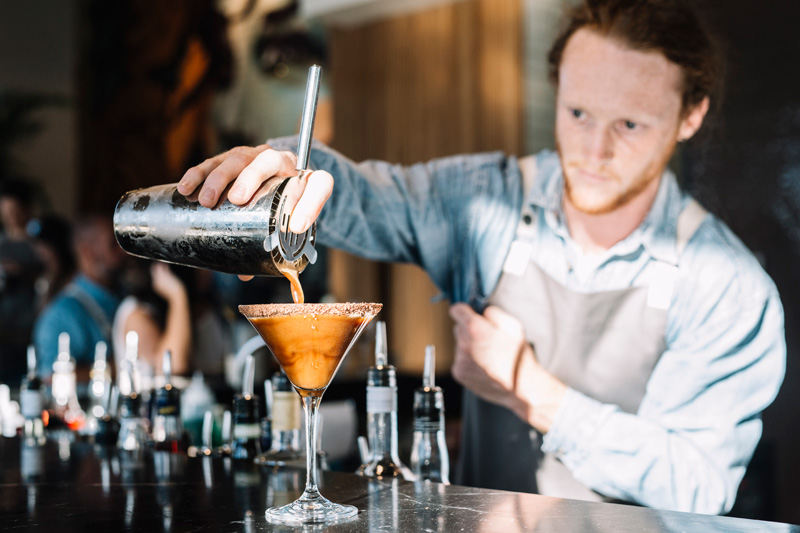 As we venture deeper into the new year I find we already in dire need of a bit of extra kick. Cue the good old espresso martini. From brand new all-dayer Riddik, comes a new twist on the coffee cocktail with the welcome addition of butter (makes everything better), honeycomb and espresso out of Brunswick.
Says Riddik's bar and coffee manager Andrew Wagner of their easy-going cocktail menu, "The cocktail list was a collective effort of ours, with input from Merlin (the resident mixologist at Paramount liquor). We basically just chose things we would like to drink and then topped the list up with four of Merlin's creations that we thought sounded too delicious to turn down. The espresso martini was influenced by his recipe; we had one on there but tweaked it after seeing and trying his recipe which introduced butter vodka in lieu of straight vodka, and Monin honeycomb in lieu of sugar syrup."
—
Riddik Espresso Martini
– Ingredients –
45ml 666 Butter vodka
15ml DeKuyper creme de cafe
30ml Code Black espresso, chilled (Ex Wife blend, double ristretto)
15ml Monin honeycomb syrup
Lindt 90% dark chocolate
3 coffee beans, optional
Fresh ice
– Method –
Finely grate chocolate, rim your martini glass with it and set aside. Shake vodka, creme de cafe, espresso and syrup with ice. Strain into martini glass. Float with 3 coffee beans.
—
Find Riddik just open at 1-3 The Mall, Templestowe Lower (don't miss their sodas made in-house or the lavender spiked bubbles btw).