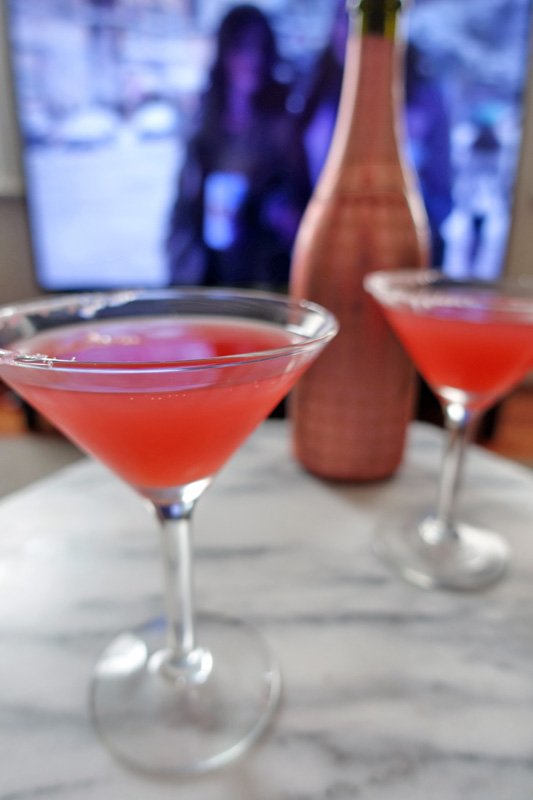 Please excuse us; we're unashamedly been down a new Gilmore Girls rabbit-hole for the past couple of days. Lorelai and Rory's junk eating habits are infamous – Pop Tarts, pizza, Chinese take-out, pancakes, Red Vines, burgers, Mallomars – so our binge-watching Netflix menu is easily sorted. But what drink will quench our thirst during six hours of "A Year in The Life" mini-movies and sip-everytime-someone-makes-a-pop-culture-reference drinking games?
After coffee (and copious martinis with olives at Friday night dinners) the most famous drink in the Gilmore Girls universe is probably "The Rory" which Emily had custom made for her grand-daughter's 21st birthday party. As Luke says "it even tastes pink"! Thanks to tipple's speedy alcohol delivery service you don't even have to get out of your pjs when you run out of chilled Champagne.
—
The Rory
20ml vodka (we used Vdka 6100)
30ml unsweetened pineapple juice
splash grenadine
Champagne/sparkling wine, to finish (we used pink sparkling)
sugar, to garnish
Shake vodka, juice and grenadine with ice until chilled.
Strain into a martini glass half-rimmed with sugar (pink if you've got it).
Top with sparkling wine.
Extra maraschino cherries optional.
Makes 1.
—