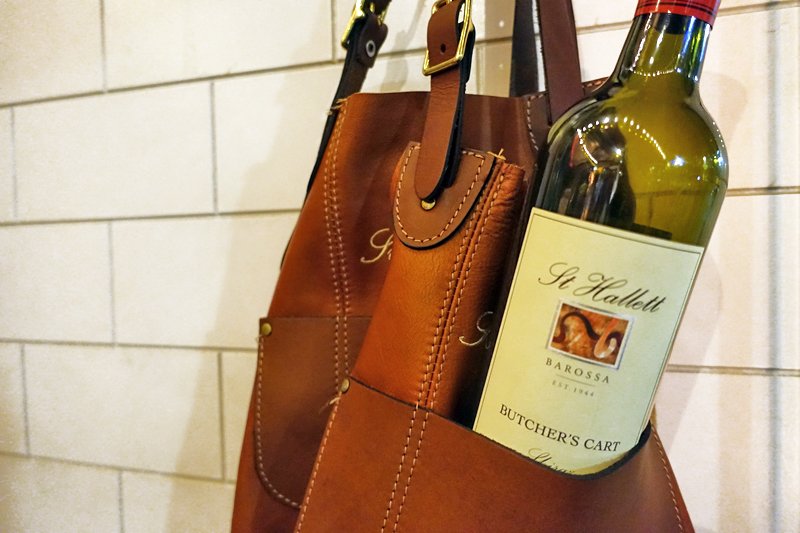 A Barassa Valley winery has appeared on Southbank. St Hallett brings, not another pop-up cellar door, but instead a space inspired by a butcher's cellar. St Hallet's founding family the Lindner's originally established a butchery long before they began crushing grapes delivering small-goods by cart to homes across the valley. In time, their butcher shop devoted some space to a winery and cellar until all things grape eventually took over entirely.
Their Butcher's Cellar takes over a corner of Yarra riverside bar Left Bank for a series of meat and wine nights from now until October 26th. The semi-alfresco space has been transformed with white butcher's tiles, tools of the trade, meatsmithing aprons, chesterfield lounges, fire and cow hide. Plus there's a trio of St Hallett wines on offer including the star of the show, the Butcher's Cart Shiraz.
Each days toasts a different food concept matched to wine. Wednesday nights are devoted to meaty Spanish tapas platters cooked on a hot stone bbq. Thursday night serves up a Victorian "butcher's block" of two types of local fillet steak with smoked heirloom veggies and peppery Shiraz sauce. And Sunday afternoon sessions see a yakitori chef bbq-ing skewers as diners watch on the terrace.
Get your steak and Shiraz fix at the St Hallett Butcher's Cellar for a limited time only at Left Bank, 1 Southbank Boulevard, Southbank.