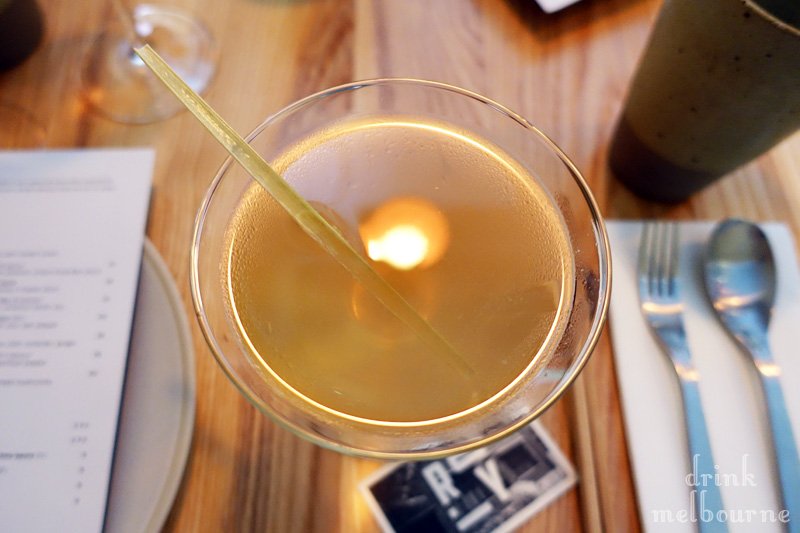 There's more than just fried rice fit for an emperor (seriously, it's that good) at modern Chinese eatery Ruyi. There's a short but sweet offering of cocktails infused with Asian flavours of lychee, lemongrass and green tea too. After just over a year in business, I hear welcome rumours that Ruyi's bar will become a more prominent  part of their offering in 2015, with original interior designers Hecker Guthrie re-jigging the space. So now seems a good as time as any to sample what might be in store soon. Ruyi's founders Sheng and Qian Qian have kindly shared the recipe to their fragrant 'Ginger Ginger' cocktail below. While the eponymous 'Ruyi' cocktail may be the show-stopper of the drinks menu with its flaming garnish and lurid azure hue, its the subtle kick of the Ginger Ginger that I'd want to counter many platefuls of Szechuan eggplant fries and wontons bathed in Ruyi's signature chilli sauce.
Ruyi's Ginger Ginger
30ml gin (your favourite or try Cambridge Distillery's Japanese Gin, though not Chinese it contains complementary flavours)
15ml Stone's Green Ginger Wine
15ml honey syrup (make just like simple syrup but with honey instead of sugar)
20ml fresh lime juice
1 stalk of lemongrass
ice
Slice lemongrass longways into halves or quarters depending on how many of these you plan to make. Shake rest of ingredients over ice. Strain into a chilled martini glass. Garnish with a lemongrass stick "swizzlestick".
Have the bartenders at Ruyi mix you up a batch of Ginger Gingers tonight at 16 Liverpool Street, Melbourne (and don't forget to eat ALL of the fried rice).