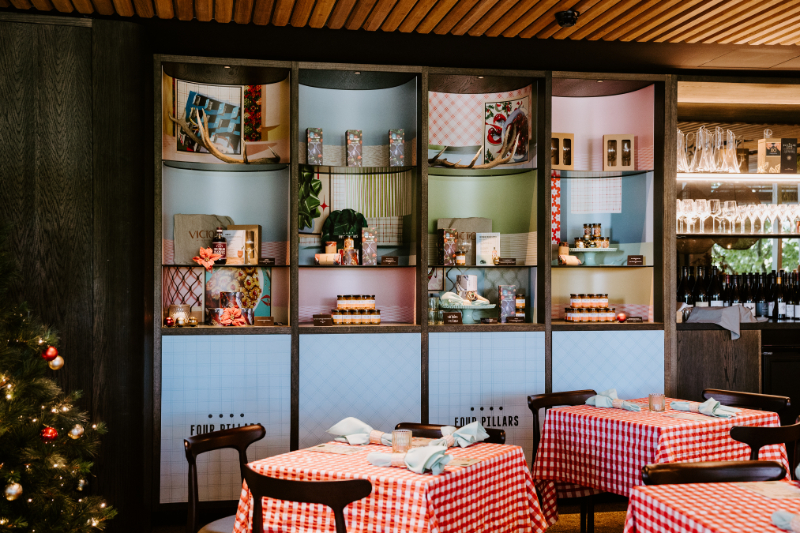 Move over brandy and eggnog. Christmas gin is stealing your December crown. And Victoria by Farmer's Daughters is happy to be an accomplice; inviting Four Pillars (and their Chrissy pudding-infused gin) over to their place to shake their gin-gle bells.
Their collaborative Festive Sunday Sessions begin this weekend and run every Sunday until Christmas Eve. Embracing Australia's topsy-turvy sunny festive season, the sessions will be hosted outside on Victoria's shady, leaf-laden terrace with bottomless, refreshing Four Pillars Christmas gin cocktails and G&Ts. Santa's Nightcap (Christmas gin, orange marmalade liqueur, chocolate bitters) is one you won't want to share with the jolly fat man in red.
As for the feasting side of things, included are bountiful snacks to share; seemingly inspired by Aussie Christmases out in the backyard. Think housemade turkey and ham terrine paired with Bloody Shiraz gin sauce in place of cranberry, grilled lamb chops and beef skewers drizzled in Christmas pud spiced BBQ sauce, and even golden brown mince pies lovingly baked by Cobb Lane. Sessions are ideal for joyous end-of-year catch-ups (without the washing up afterward).
Inside, a decorated tree, gifts and dining tables all set for the season have magically appeared. This is a pop-up space where you can pick up provisions and gifts to take home like gin, preserves, puddings, homewares and glazes. Or sit for a while, sipping Jolly Spritz, Conversation Starter and Santa's Nightcap cocktails. Or even a whole gin-tasting paddle.
Pop into this liminal wonderland from 5pm until late Wednesday to Saturday and from 11.30am to 5pm Sunday at Victoria by Farmer's Daughters (in Fed Square).
Photography by Arianna Leggiero.