Opening a bar in Melbourne in 2021 may have seemed like a Sisyphean task. Yet the below venues refused to baulk in the face of any shutdown storm! Here's a guide to the most notable new bars across Melbourne that either debuted amid our latest lockdowns or have just flung open their doors for the very first time. Let's hope permanently.
Go forth and visit them this summer, support your local and don't forget to invite your patience along with everyone you've missed.
Auterra | 1160 High Street, Armadale
A wine-centric bar – the name means "of the earth" – from the team behind nearby, produce-driven restaurant Amaru. 40+ sparklings are on the menu, along with drops from plenty of local makers and interesting internationals. The earthy interiors are even inspired by the terrior of various viticulture regions with clay pinks, Burgandy reds and rose gold standing-in for rosé. Bar snacks include Shiitake Mushroom Sundaes, Smoked Kangaroo Tartare and Spanner Crab Doughnuts with salted cucumber and celery.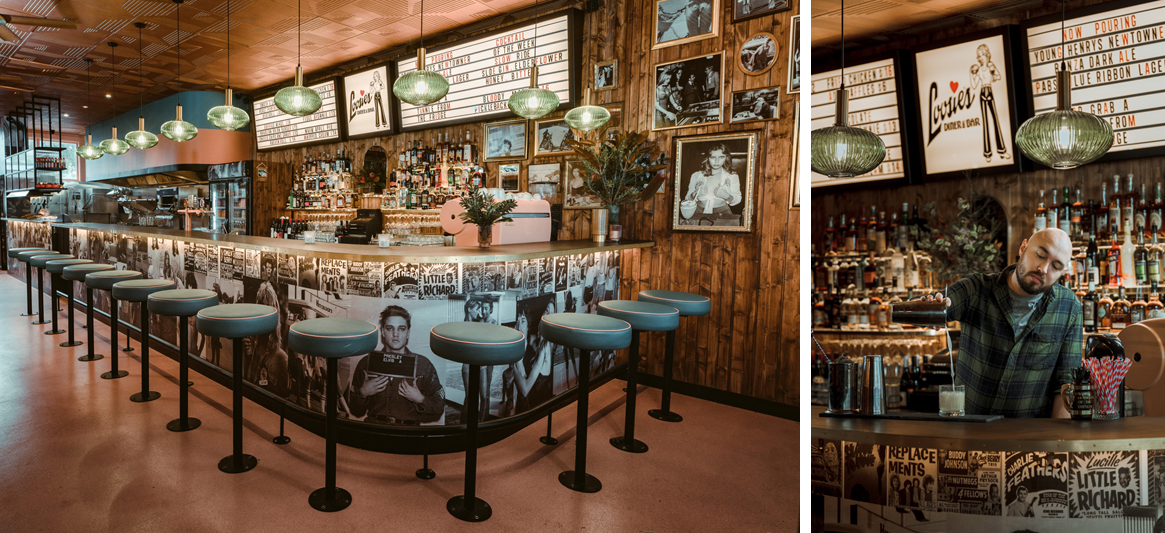 Loosie's | 97 Beleura Hill Rd, Mornington
Only a far stronger barfly than I can resist the allure of S'mores French Toast. Loosie's is fashioned after 1970's diners in L.A. Instead of bottomless stale coffee and outlaw lovebirds on the run, you'll find PBR, picklebacks and tequila and whisky-laden cocktails here. But if there's not a waitress calling us "hun" as she dishes up our Rueben, I say we riot.
Great Ocean Road Gin Kitchen | 34 Great Ocean Road, Aireys Inlet
First came the Gin Garden and Tasting Room. Now comes the Gin Kitchen to complement Great Ocean Road Gin's destination offering. The menu is filled with zippy Asian dishes; it's food designed to be washed down with juniper and coastal botanical spirits. Don't forget to try their Distillery Creek Gin while you're there.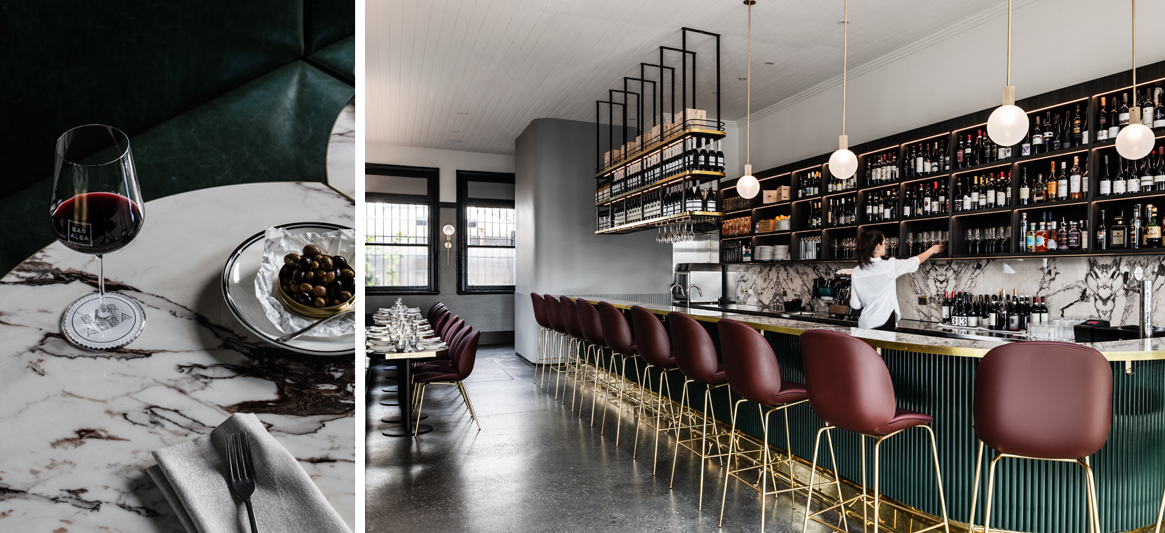 Bar Alba | 132 Cotham Rd, Kew
Having been named after a village in Piedmont, you can tell Alba holds Italy close to its heart. There are over 400 wine bottles to try out of their cellar – some exclusive to Oz. Half bottle pours are available if you don't feel like commiting to the full thing. The wine bar is hosting an education program from next year which will guide guests through Italy's wine regions and grape varieties. This one's a sister venue to the Italian restaurant, Centonve, just down the road.
Arbory Afloat | Northbank, Yarra River, Melbourne
The iconic rivertop pop-up bar is back. This time it brings a Turkish vibe – specifically drawn from the Turquoise Coast – to town. Turkish chefs have helped develop a Mediterranean menu of dips, flatbreads, kofte and raki-cured kingfish to snack on while surrounded by the odd olive trees and hues of sunny, honey yellow. Aflaot has even done a Turkish Delight-inspired pink gin collab with Four Pillars. Try it in a zesty pink spritz at the bar.
The Lounge at Society | 80 Collins Street, Melbourne
As part of the multi-faceted Society, The Lounge is a walk-in only prospect that will see you attempting to bribe your way into a booking. Across the statement-making black marble bar they're serving Caviar Martinis that are worth the $55 pricetag to make a date with at least once a year. There are vintage spirits for devoted booze nerds to uncover. And the Jalapeno Gibson is an instant star. Society even has it's own oyster shell-infused gin created alongside one of Australia's best distilleries, Never Never.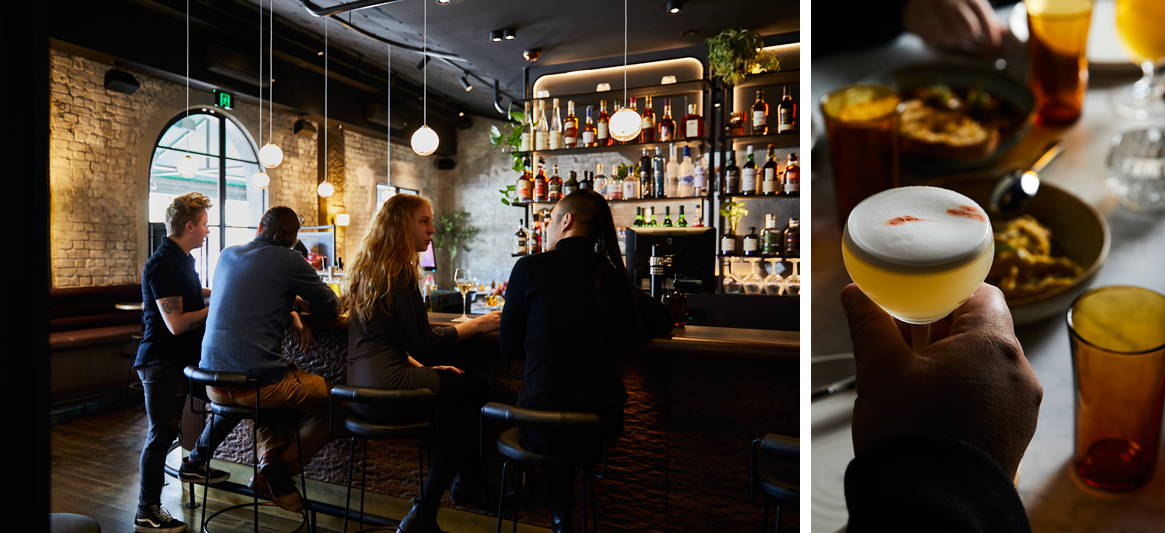 Copycat | 9B Gordon Street, Elsternwick
Before or after you catch a flick at Cinema Classic next door, sip a little something at Copycat. This cocktail lounge, which has moved into After the Tears' old spot, is designed for late and/or date nights. May we suggest a "Parisian Quarter"; a crowd-pleasing combination of gin, elderflower liqueur, Licor 43? Order a round with a side of scallops baked with creamy sweet corn and jalapeno. Images by Parker Blain.
Beer Garden at Teller | 81 Lygon Street, Brunswick
Modern pub Teller has added a laneway beer garden to their place. Ensconced in heritage red brick, with dual bar windows and stripey umbrellas; you only need to bring the sunshine with you. They have 12 beers on tap, plus original cocktails and a whole spritz menu to cool you down. Try sharing a whole jug among friends of berry caprioskas (made with Marionette's cult-fave dry cassis) or pomegranate iced tea laced with white rum. Images by Kate Shanasy.
Pearl Diver | 56 Little Bourke Street, Melbourne
What's better than a cocktail bar? A cocktail and oyster bar! Pearl Diver is the latest bar to join the Speakeasy Group (Eau De Vie, Mjolner, Boilermaker House, Nick & Nora's) family. It's all about fresh produce. Oysters are sourced from targeted Australian locations; even the drinks will change with the seasons. The on-ice oyster bar serves up the molluscs in three ways: natural, dressed and cooked. And you can have them served as part of a Sea + Shell martini too!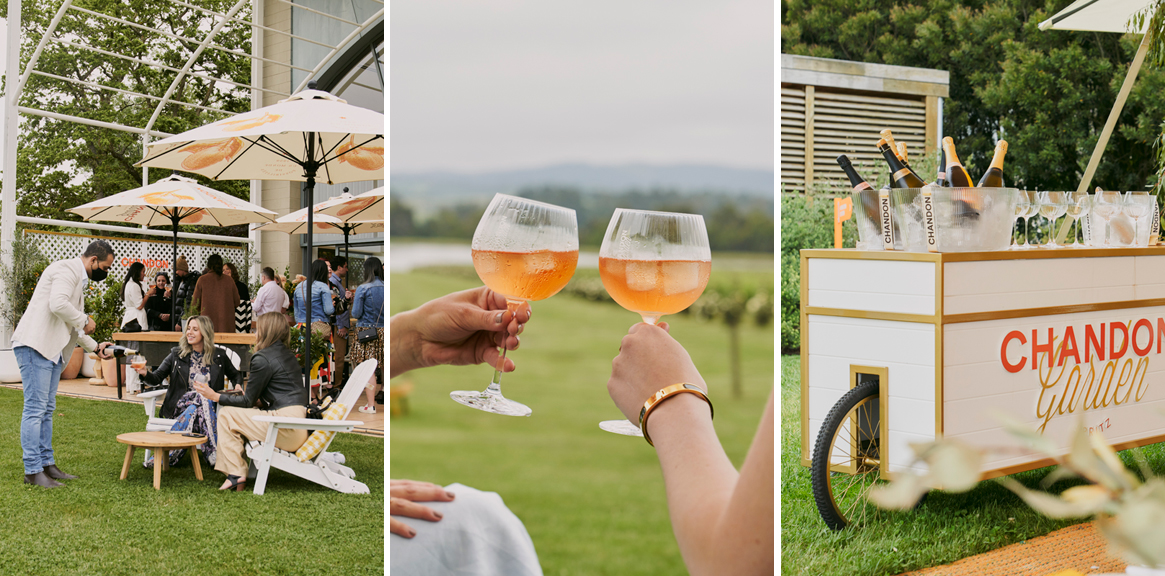 Garden Spritz Summer Sessions | 727 Maroondah Highway, Coldstream
Chandon has created a Garden Spritz: an instant bottled cocktail combining their famous fizz with house-made organic orange bitters. And to herald the arrival of day-drinking season, they've set up a pop-up Garden Spritz Summer Sessions bar on the terrace and lawn at Domaine Chandon in the Yarra Valley. The alfresco space is all set with lawn chairs, fresh air, sprawling views, and many bubbles. Picnics, grazing, lawn games and tasting flights are on offer and encouraged. Wax'o Paradiso features on the opening weekend (from December 4) and live music from WAT Artists' line-up appears on selected weekends in December and every Saturday in January. The Garden Spritz Summer Sessions officially start this weekend until the end of February 2022.
Naught | 2/32 Peel St, Eltham
Naught has opened their working gin distillery and speakeasy bar in the suburbs. And it's worth the trip alone (or make a time of it and visit Prosciutto Bros and Second Home while you're out that way). It's all low-lit sophistication inside with a bar, lounge, and that gleaming copper still taking up pride of place. The menu relies on a range of 1920s classics: The Mile High Club is their take on an Aviation spiked with overproof gin and the Gin Fizz will leave you feeling like a flapper. Do try the Humuhumunukunukuapua'a. It's as fruitily seductive as it is hard to pronounce.
The Champagne Bar | 133 Russell Street, Melbourne
Pop those bottles and enjoy this pop-up devoted to all things French and sparkly in the QT Melbourne hotel lobby. This Champagne Bar is a partnership with Perrier-Jouet. It offers flutes of the good stuff – naturally – alongside a quintet of diverse gin and vodka martinis. Bar snacks are as fancy as your outfit should be: lobster, oysters, crab, wagyu, figs, truffles and caviar make appearances. Only open Fridays and Saturdays from 5pm.
Pomelo | Level 3, 169 Melbourne Place, Melbourne
Sitting above the elegant Bouvardier cocktail bar is a completely different prospect. This design of this open-air rooftop puts Miami, Memphis, Art Deco and the 80s in a blender. They've created – and even canned – a variety of seltzers and have a closed-loop system going with help from repurposed cocktail ingredients from down below. For example, Pomelo's 'Ms.O'Peel' is a miso-banana daquiri seltzer that uses leftover banana and lime from Bouvardia. You might get lucky and visit when they're doing one of their one-time-only seltzer flavours dispensed via keg.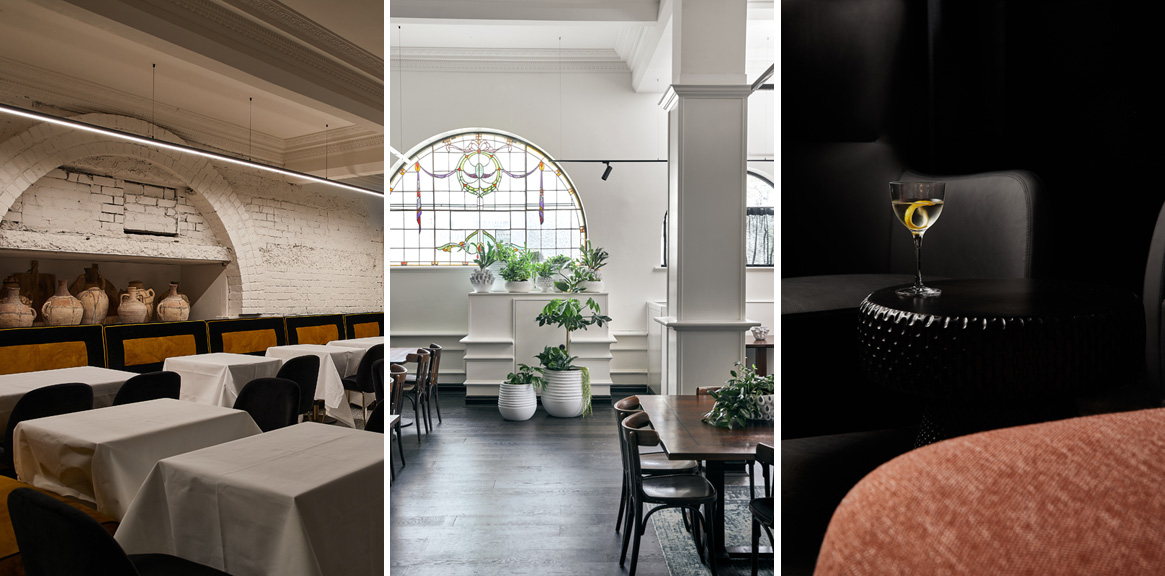 The European Hotel | 169 Fitzroy Street, St Kilda
The revival of Fitzroy Street is really kicking off this Summer! The European Hotel returns to its former name and introduces five distinct and diverse spaces to a 1000sqm, 1850s site in St Kilda. Naturally lit and white-washed, Rafael is for casual Euro dining. Crudino is all about Italian food with plenty of time for lazy aperitivo hours and much vino. The Melbourne Lounge is where you'll find me; it's a moody, cocktail-centric bar. There's even a gourmet produce store called 1854 and a luxe private dining room named Privato here. Designed by Alex Zabotto-Bentley, the art-driven interiors are plush, and a welcome addition to the strip. Images by Griffin Simm.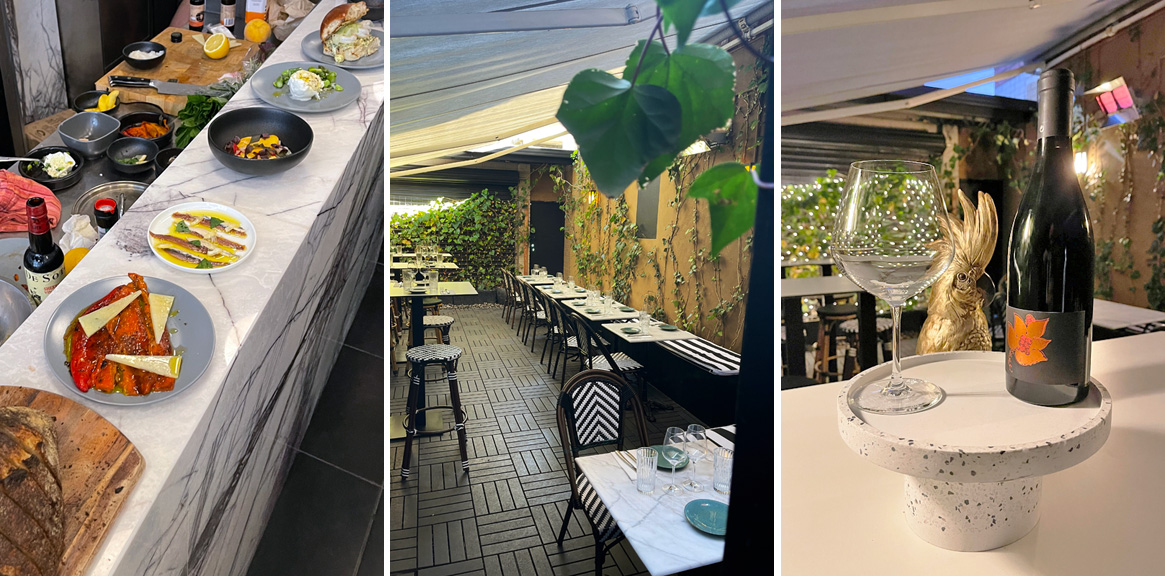 Bar Villanelle | 44 Chapel Street, Windsor
Feel so Frenchy, so chic at this carefully put together little wine bar. They prefer to offer mostly organic, biodynamic wines, many from Victoria but with plenty of choice of vins from more far-flung climes. Perch in their vine-laden courtyard and consider a tempting and approachable selection of cocktails and beer. I'd order the "On My Whey" if I were you (a sour of Hartshorn sheep's whey vodka, citrus and froth).
Fable | Level 13, 168 Lonsdale Street, Melbourne
Aren't we all starting a new chapter? At 14 floors up, Fable is the city's newest open-air rooftop bar. It's inspired by story-telling; from the "crazy" uncle telling tall tales to the myths and legends passed down through generations. So each season cocktail by Alex Nardini aims to tell a story. The menu is Mediterranean, for now, but will change to become more inclusive and global as more storytellers share their stuff. Don't forget to try one of six martini twists for a happily ever after. Images by Nicole Cleary.
West Footscray Wines | 1/578 Barkly Street, Footscray
If you're fond of places like Gordon's in London or Carlton Wine Room, Gerald's Bar or Seddon Wine Store closer to home, you've found a new haunt in this wine and beer store. Also known as WeFo Wines, this store also hosts a small bar where you can sit and sip – mainly Australian – wines by the glass (you know you'll just end up getting the whole bottle) with freshly shucked oysters and other tasty goods on the side. They'll be doing monthly oyster frenzy and meet-the-maker sessions soon too.
Looking for more new places in which to dust off your wings? Try Valhalla, Sarah Sands, La Madonna, The Q, Hope St Radio, Bouvardia or The Understudy.