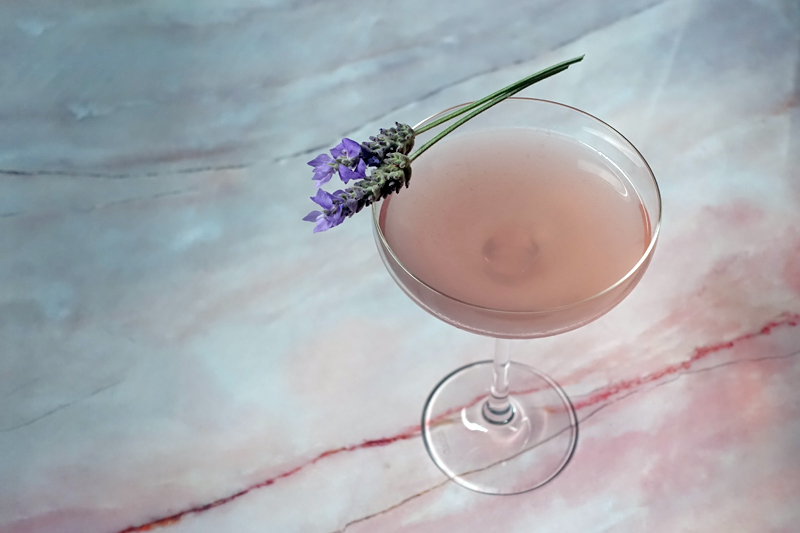 This Mother's Day-inspired cocktail tastes like a bouquet of flowers in liquid form! Treat your mum or your nanna with this pretty, pastel-pink drink sometime soon. This recipe makes a hero of Little Lon Distilling Co's limited edition Maud's gin liqueur. Though their mauve concoction is a liqueur, it's balanced out with a spirit-level ABV so one gimlet is probably plenty (if you are anyone else but me). Make sure you choose a good vodka to infuse with flowers too. I used Grainshaker's corn vodka for its sweet caramel and vanilla notes. And don't hesitate to bump the sugar syrup up to 15ml if your mama has a sweet-tooth. Bonus points: serve this cocktail with cucumber cream cheese finger sandwiches and/or scones with strawberry jam and cream.
Cottage Garden Gimlet
Ingredients
60ml Maud's Rhubarb & Violette Gin Liqueur
15ml lavender-infused vodka
15ml freshly squeezed lime juice
10ml 1:1 sugar syrup
2 drops rose water
fresh lavender sprig, to garnish
Method
Add rhubarb and violet liqueur, lime juice, vodka and sugar syrup to a cocktail shaker with ice. Shake vigorously until very chilled (about 20 seconds). Double strain into a chilled coupe glass. Drip in 2 drops of rose water – it's like perfume to finish off an outfit. Garnish with lavender.