This cocktail recipe is a little bit Paloma, a little bit Salty Dog and a little bit none of the above. It's also a little bit of sorcery that manages to be warming and sweet yet somehow refreshing! A locally-made raspberry version of an amaro by 7K Distillery plays a role here. It's kind of like a drier, berry-centric Aperol – and you can use it in similar, spritzy ways. Sharing the stage in our Sizzling Bittersweet Fizz is vodka spiked with chilli. I've chosen Grainshaker's rye vodka especially for this as I wanted something with bold flavour to stand up to spice plus it has some sweet, toasty notes which pair well.
Don't be afraid. This cocktail definitely has a zing but it isn't that hot!
Can't stand the heat? Check out my other original cocktail recipes here.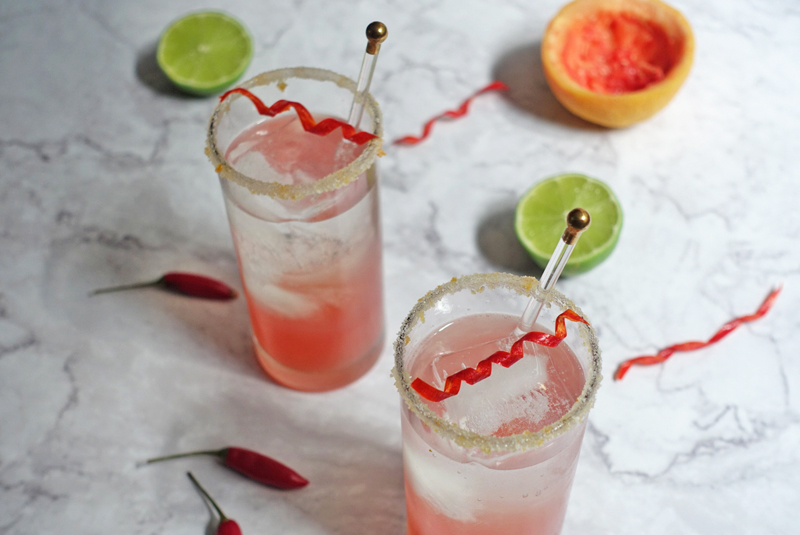 Sizzling Bittersweet Fizz
60ml chilli-infused Grainshaker Australian Rye Vodka
75ml 7K Distillery Ginnovations Raspberry Aperitif
1 Tablespoon ginger marmalade
30ml fresh lime juice
90ml fresh grapefruit juice
60ml soda, to finish
2 teaspoons caster sugar, zest of one grapefruit, pinch sea salt, lime juice for garnish
Candied chilli twists, for garnish, optional
Mix sugar, zest, and salt in a shallow dish. Rub the rim of your glasses with lime juice. Dip into sugar to coat. Set aside.
Add vodka, aperitif, marmalade and juice to a mixing glass with ice. Stir until well combined. Strain into two highball glasses over fresh ice. Top with soda. Stir gently. Garnish with a chilli twist. Makes two.
To make chilli twists: Slice a long red chilli into eighths lengthways. Discard seeds. Add to boiling water for two minutes and drain. Add a half cup sugar and a half cup water to a small saucepan (you can also add flavours like cinnamon, cardamom, citrus zest, etc at this stage if you like). Heat, stirring, until the sugar is dissolved and the mixture comes to a simmer. Add chilli strips, reduce heat to as low as you can go and simmer very gently for 20 minutes. Drain (save the strained leftover syrup for cocktails). Heat oven to 90 degrees. Grease wooden skewers with oil, wrap chilli slices around them and place on a baking paper lined tray. Bake for around two hours until crispy; start checking after one hour. Take the skewers out of oven one at a time and carefully unloop twists while they are still pliable – be careful they could be a bit hot. Rest on baking paper to cool. They last for a while so feel free to make a batch for later.
To make chilli-infused vodka: simply split a Thai birdseye chilli in half and leave in a cup of vodka for 8 hours. Strain and don't let a sneaky stray seed creep up you. Use the spent chilli and any spare chilli vodka in penne alla vodka!