This one's in the spirit of making the most of the last of Melbourne's summer rays.
In supporting local venue creators who've had, let's say, a tumultuous time of it lately.
And it's also in the spirit of scouting some downright delicious drinks.
In no particular order – just in case you missed their openings in the forgotten era that was 2020 – here are the most notable new bars to discover in 2021! Raise a glass in one of the below places this weekend…or go now, why wait?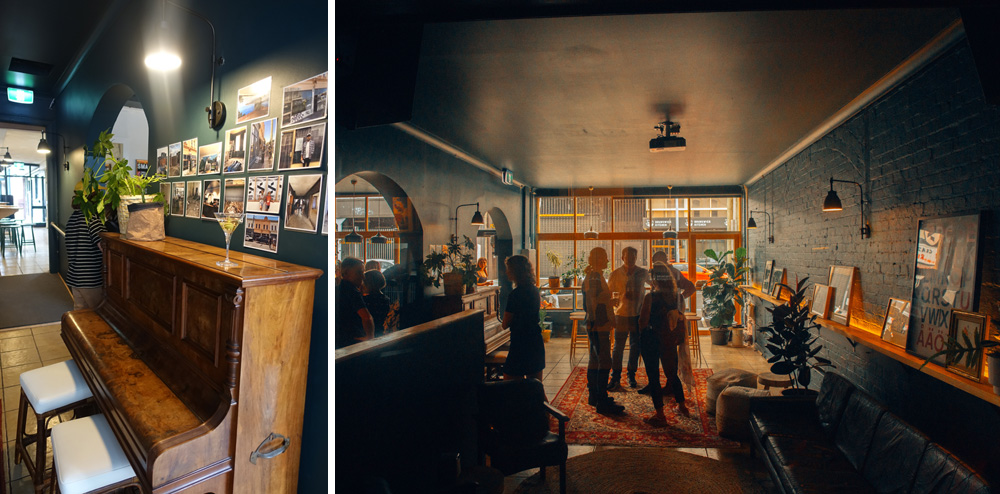 1. Small Time | 271-273 Albert St, Brunswick
Small Time has big dreams. It's an emerging live music venue but not in the way you might think. Gigs here are more like intimate studio sessions and interviews that sippers luckily get to listen in on. The menus and signage around the bar are built on top of old music posters, and they'll serve up pizza (with musical names) and classic cocktails to keep your tastebuds as happy as your ears. There's a chilled-out little rooftop too – hello afterparties!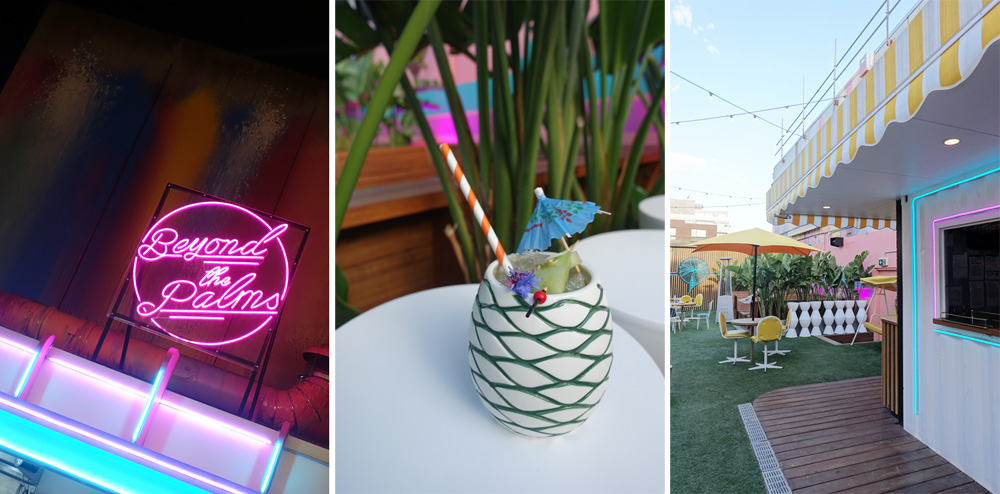 2. Beyond the Palms | 33 Clifton Street, Prahran
Are we in Miami? The Caribbean? Whatever. The 80/90s fever dream that is Beyond the Palms is a true urban oasis among the concrete jungle that is the Chapel Street precinct. An underutilised lot has been transformed into an open-air taste of the tropics. By some of the brains behind Galah – one of the most beautiful bars in Melbourne – the Palms brings a dose of sunshine (fingers crossed), neon accents, candy colours and literal swaying palm trees to the inner 'burbs. There's also lashings of rum, tequila and cachaca. By night, you can almost imagine you're on the South Beach strip.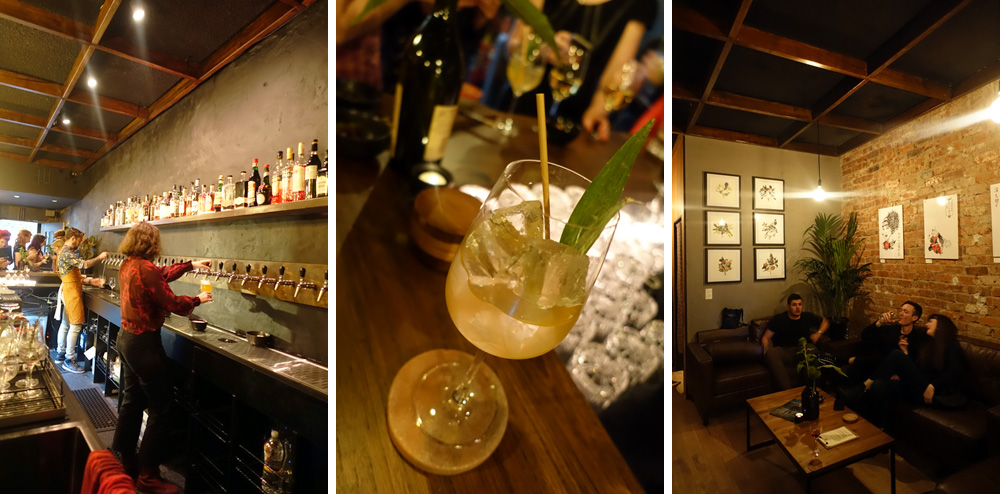 3. Bonny | 177 Brunswick Street, Fitzroy
This one's a craft beer and cocktail nook with wine bar stylings. The venue is led by a veritable supergroup of hospo types from Beermash, Edge Brewing & ex-Speakeasy Group: all bringing their tasty strengths to the table. Bonny has a focus on minimal waste and house-made goodies like sophisticated sodas (to cater to the zero-proof drinks trend). Bonny means "good". You'll see why from your first visit – don't forget to check out the new – black as my dark heart – backyard.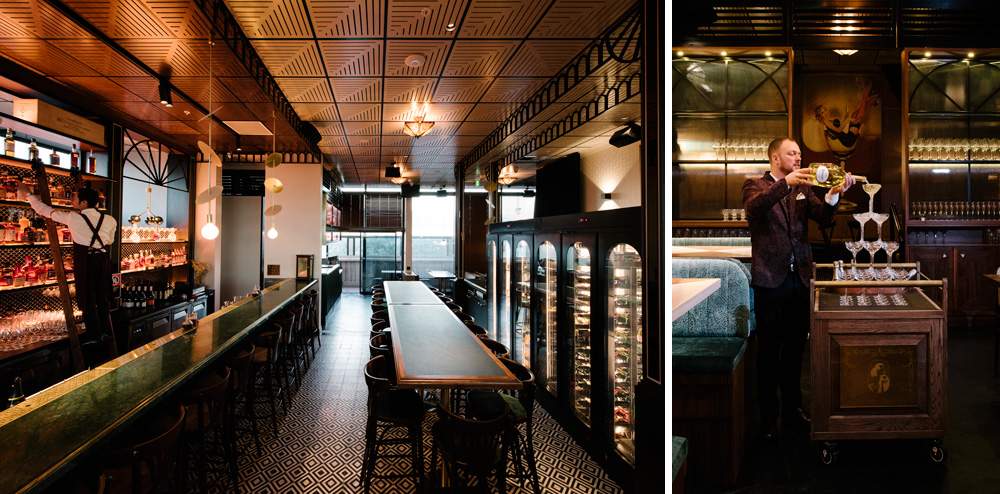 4. Nick and Nora's | 80 Collins Street, Melbourne
Vintage glamour and Champagne in coupes (and sometime towers) are the orders of the day at this local outpost of a Sydney bar venture. From the same family Eau De Vie, Boilermaker House and Mjolner, comes this art deco bar influenced by the sleuthing couple from classic novel-turned-film 'The Thin Man'…which has been on my "to be read" pile for ever. The cocktail menu is handily divided by theme or according to whichever mysterious character you feel like playing tonight; peruse martinis, fizzes and sours plus partytime, dessert and stirred-down drinks and punchbowls. Order a round of Oscietra caviar and keep 'em coming while you're at it.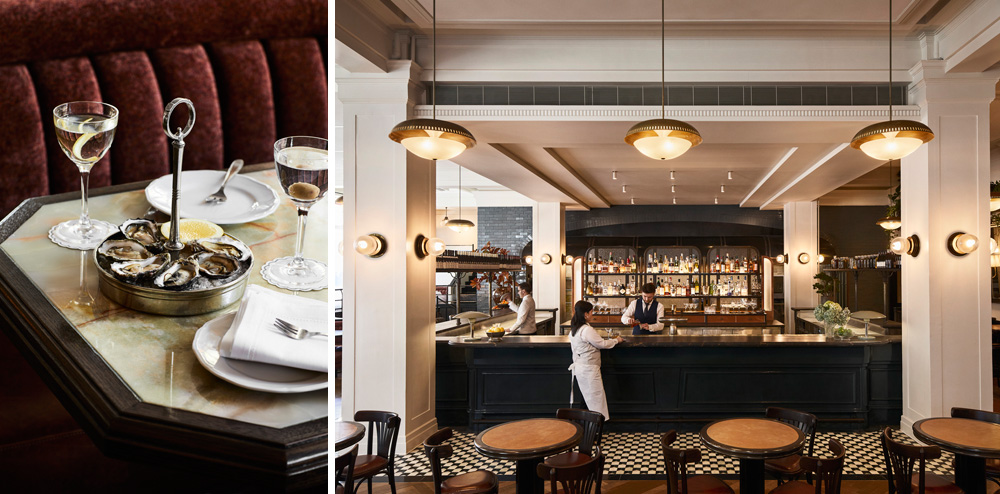 5. Gimlet | 33 Russell Street, Melbourne
Named after one of the greatest – and simplest – cocktails of all time, comes the latest booze-centric venture of renowned Melbourne chef Andrew McConnell. Among the refined 1930s heritage surrounds of Cavendish House, you can sip on a worldly line-up of Gimlet's enticingly-named original cocktails including the 'Hojicha Highball' or the 'New York Rebel'. Enjoy these as you languish over a supper of oysters, caviar or even a late-night cheeseburger should the mood hit (and it will). Photography: Sharyn Cairns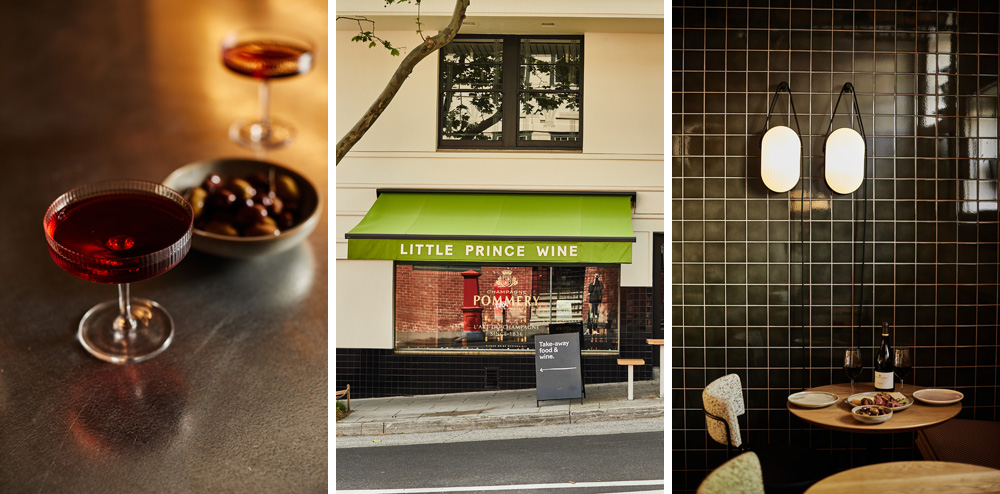 6. Little Prince Wine | 2 Acland Street, St Kilda
Tucked away around the side of the Prince Public Bar, you'll now find Little Prince Wine. It's a quietly luxe neighbourhood wine bar, cellar and store where you'll also be welcome to linger over fromage and freshly-sliced charcuterie, terrine or honey-drenched figs. There are bottled cocktails and tinnies to pick yourself directly from the fridge and hip vinyl cuts playing on the record player. Don't forget to take away a bottle of wine to continue the good times at home; our tip right now is Gentle Folk's 'Village' Pinor Noir. Photography: Jana Langhorst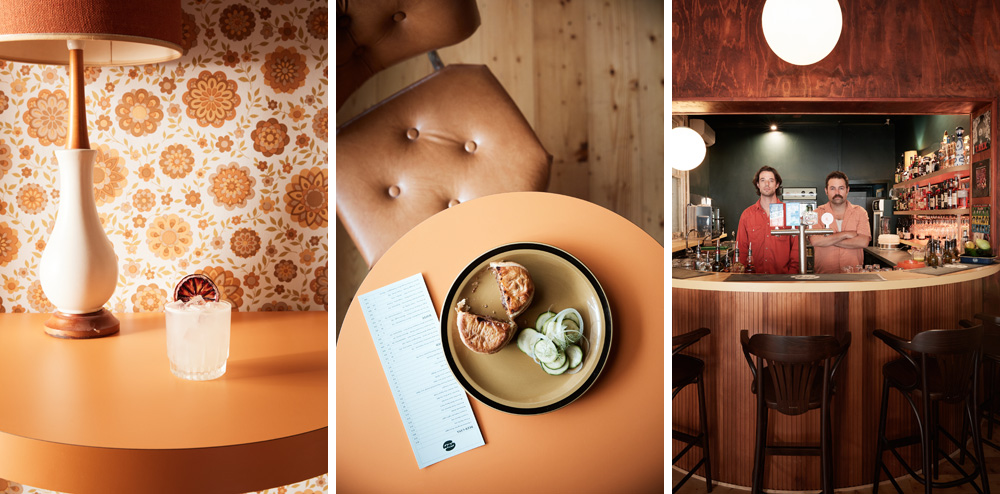 7. Gum | 173 Johnston Street, Collingwood
Order up a few tinnies, a banana cream daiquiri or a spritzy jug to share at this new bar and beer garden. Gum is miniature pub – the hospo debut of couple of local music industry types – with 1970s style sensibilities. How did we not notice that brown on brown (on brown) looked so good before! Bar snacks lean into Gum's retro Australiana kitsch with a range of hot meat pies, a sausage roll and vanilla slice on the menu. Photography: Rubin Utama
8. Anther | 33 Mackey St, North Geelong
One of my favourite gin-makers (seriously, the stuff disappears like water around here) has opened a regional distillery, cellar door and onsite bar at the site of a century-old former wool mill, Federal Mills. There are, naturally, gin tastings on offer including some gins exclusively available only at the the distillery, and cocktail flights too. This spot is a good excuse to road trip down the Bellarine Peninsula – just don't forget your designated driver. Photography: David Hyde
9. Wander North | 149 Upper Heidelberg Rd, Ivanhoe
Wander North acts as the new tasting bar, cellar door and boutique bottle shop for gin-distillers Imbue. Here you can try a gin paddle, cool down with a very dirty martini or even book the space for more private affairs. Select a bottle to take home from Imbue's Melbourne suburbs inspired gin and gin liqueur range, or other agave, vodka or cane spirits from their friends at Black Snake, Stone Pine or Jimmy Rum distilleries. Discover other ginteresting goods to treat yourself with too including designer swizzle sticks, cocktail garnishes, gin soaps and bath soaks…though I may be gin-soaked enough already.
10. Glou | 310 Smith Street, Collingwood
Glou is Frenchy for "glug". And if that's not charming enough, this bottle-o and tasting room is all about independent winemakers and sustainability. To achieve this they're doing wine from the tap, refillable/returnable vessels (that look cooler than your average bottles) and the smaller carbon footprint thing while reducing single-use bottles. Plus, there are wine-happy snacks by Mono XO for the budding wine-curious community they are courting.
11. Chronicles | 91-93 Fitzroy Street, St Kilda
Named for the bookshop that used to call this site home, Chronicles is a neighbourhood bar that brings a little northside nous to the southside. Their selection of interesting natural wines and craft beer sure are welcome here. You can order eats direct to your table or booth from the old school pizza place on one side or the newer modern Sri Lankan joint on the other. They also do growlers to take-away and – speaking of growlers – this bar is dog-friendly too.
12. Hemingway's Wine Room | 150 Wellington Parade, East Melbourne
An homage to the a 1920's brasseries of New York, London and Paris, Hemingway's is a spot for long power lunches, fancy dates and treating yo'self whatever the occasion may be. On the drinks menu there is plenty of wine – mostly French and Australian – plus cocktails inspired by their namesake author's writings, personal favourites and mythology. And every Wednesday here hosts a popular happy hour for pairings of oysters and bubbles (be they French, Italian or Japanese).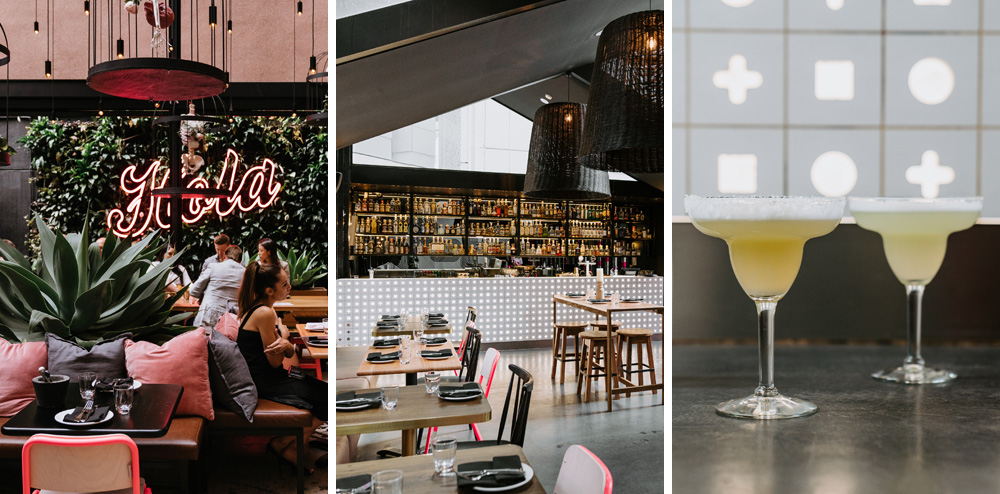 13. Mejico | 1 Pink Alley, Melbourne
This Mexican bar and eatery is notable for what they claim is the largest publicly accessible collection of agave spirits in Melbourne. They have 260+ tequilas and mezcals to try (a trip to their upper level lounge is gonna take a while). We can never go past guacamole either – Mejico's version is served with plantain chips and a little performative flair as it's freshy made in front of your eyes a the table. Pop by asap for their regular Margarita Mondays ($10 margs are better than full-priced margs) or choose to explore one of their three tequila tasting masterclasses. Photography: Arianna Leggiero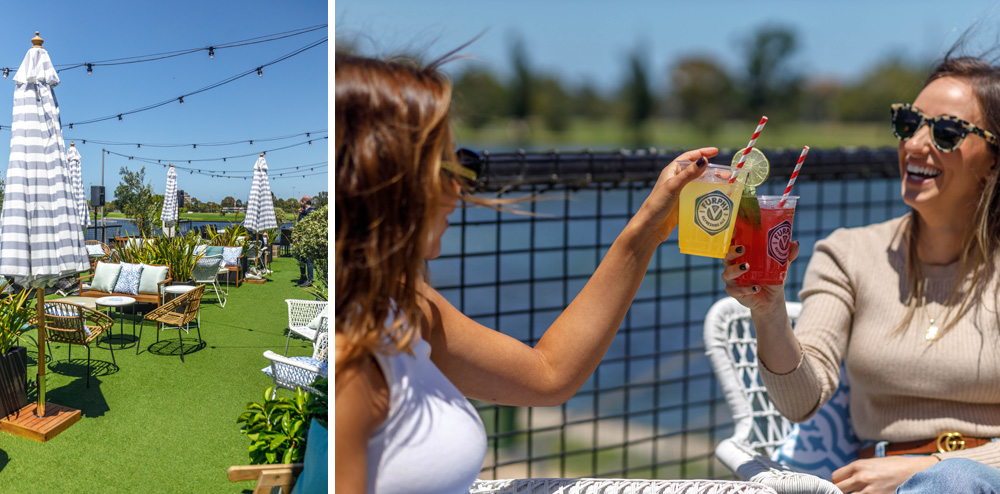 14. Lake Club | 34 Lakeside Drive, Albert Park
A sublime spot for both sunset and people-watching, Lake Club is all about the essence of Melbourne summer. Dine on lobster and prawn rolls, or mini-fish and chips as you sip from a selection of fruity spritzes and frozen margaritas. Their version of happy hour is a 'bottomless spritz hour' which is served up every weekday. Catch this waterside pop-up bar by The Smith, hosted on the deck of the Power House, in its final days. It's going to be 26 degrees this Sunday – just sayin'.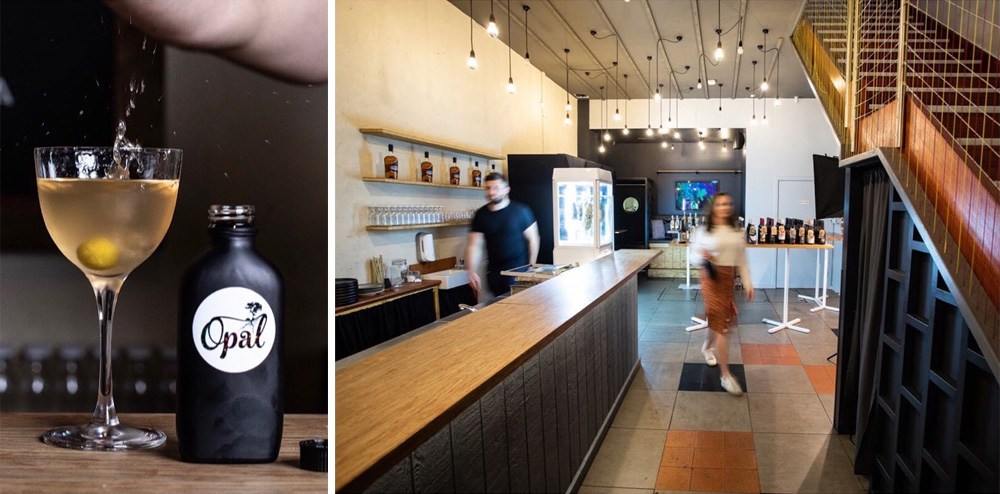 15. Opal | 188 Carlisle Street, St Kilda
Right at home below modern Australian bbq bar Land of Plenty is the "sit-in bottle shop" Opal – appropriately named because it's a gem found underneath the land. This welcoming spot has aspirations of becoming a fully-fledged wine bar as soon as restriction settle a tad; with housemade charcuterie, a pickling program (how did I ever live without a pickling program in my life?), bottled cocktails and wines that traverse the nation. Photography: Nikki Williams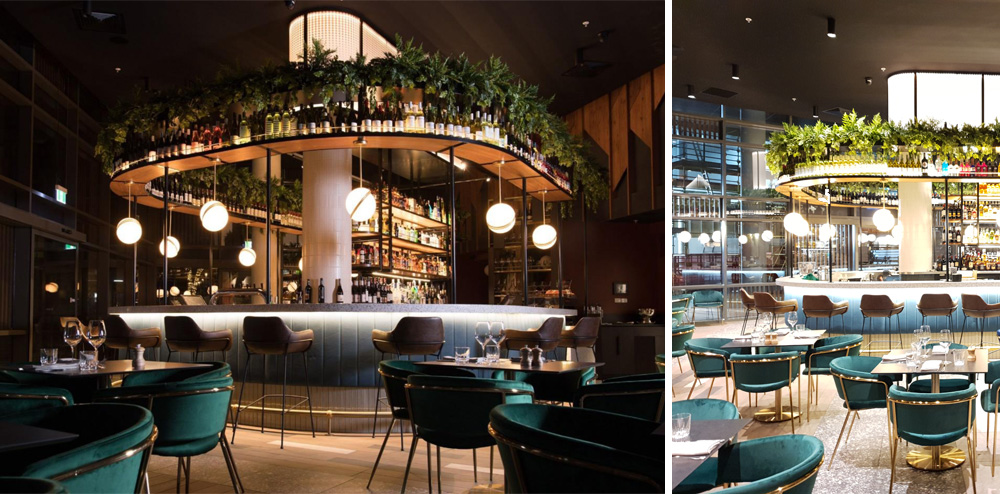 16. Saros | 41 Homer Street, Moonee Ponds
Today I learned a 'Saros' is the period of time between solar and lunar eclipses repeating. Since last year, it also means drinking and dining in style on the westside. The curvy design here is New York inspired and the hard stuff follows suit: retro Cosmos, Martinis (served your way) and a selection of over 35+ whiskies are the signature pours. Meanwhile, the other menus at this hotel bar nod to Euro-centric wines and tapas. Photography: Sam D'Agostino
17. Mr Brownie | 343 Clarendon Street, South Melbourne
Bet your local Indian take-away joint never looked this suave. Mr Brownie is an Indian (by way of Britain) "curry pub" and, like a good piece of paratha, it's got layers. There's a beer garden, an Indian deli diner, the aforementioned pub/hotel, a secret subterranean 'Boom Boom Room' cocktail lounge plus a rather sexy rooftop bar. Also of note here: a drinks list featuring 500+ beers. Photography: Parker Blain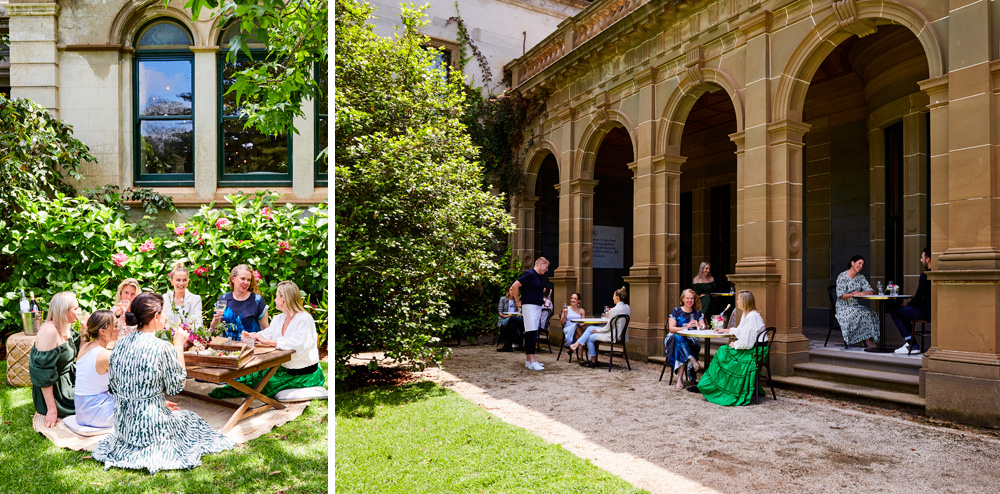 18. The Refectory Parlour | Werribee Park South Drive, Werribee
Let's go day drinking, shall we? Part wine bar and part terrace cafe, the Parlour has been added to The Refectory's offering at Werribee Mansion (how fancy). It's a spot to enjoy adults-only popsicles, in a heritage garden setting. You may also remove oneself to recline on the lawn among flowering shrubs while savouring a G&T-spiked – and fully-arranged – picnic. In fact, it's encouraged.
19. 1800 Lasagne | 653 High Street, Thornbury
For me, lasagne is life. Yet I still wouldn't have have imagined that a bar that evolved from a lasagne delivery service could look so stylish. Fitted out like a neighbourhood Italian joint (only with better booze), dare we say 1800 Lasagne the bar is even a little bit romantic! of an Drinks here lean classically Italian from Negronis and Americanos to a 15-strong collection of amari – plus a handful of spritz options – to peruse. As for bar snacks? Can't go past that lasagne, baby.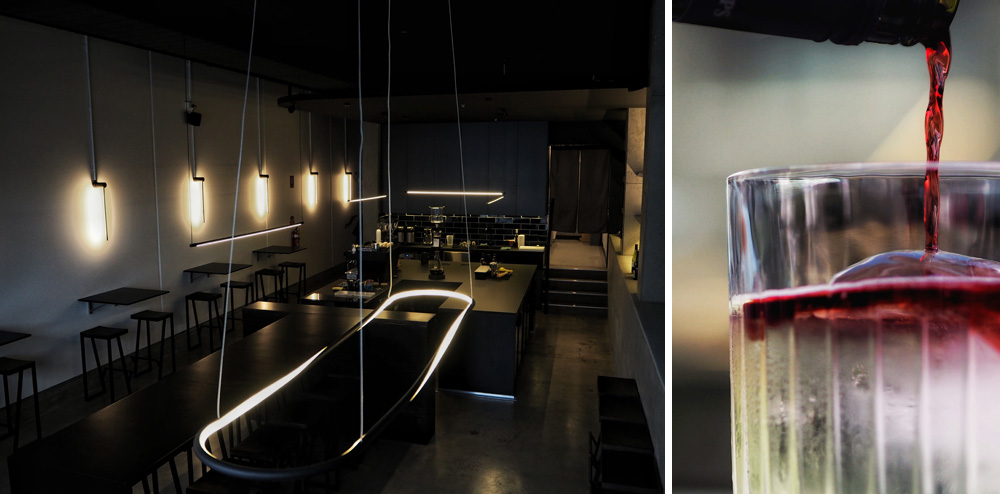 20. Arra | 13 Smith Street, Fitzroy
Coffee by day. Wine by night (or anytime really). These simple – and I'd say essential – things are what contemporary new northside cafe and bar Arra is all about. The modern design of the space relies on a contrast of dark and light to create a sense of moody warmth. Here you'll mostly be drinking Australian wine, but there is also a short selection of cocktails too. Naturally, their Espresso Martini features Arra's own own house-made coffee liquer.
21. Ponyfish Island | Yarra Pedestrian Bridge, Southgate Avenue, Melbourne
As an over the river and under the bridge venue, Ponyfish Island has been an iconic Melbourne bar for quite a while. But now, it feels like an entirely refreshed bar thanks to a design overhaul by Studio Gram! It's all upscale Palm Springs-style here with soft Cali-cool colours, curvy lines and personal sunshades. The order of the day? Signature Ponystar Martinis with a side of dumplings and steamed buns, followed by rosé sangria jugs as you sink into the afternoon. Photography: Melissa Cowan
—
Want more? Find your local newbies: Rickshaw (Richmond), Baby Jane (Prahran), Sweet Cheeks (Geelong), Holmes Hall (Moonee Ponds), Arcadia Whisky Lounge (Ormond), Life's Too Short (East Melbourne), Wolfhound On Brunswick (Fitzroy), Myrtle Wine Cafe (Footscray), Zymurgy (West Footscray), Tres e Cinco (Melbourne CBD), We are Comma (Moorabbin), Range Brewing taproom (Abbortsford), Paris Tokyo (Footscray), Ballers Clubhouse (Melbourne CBD), Freddie's laneway bar and food truck (Essendon), The Beer Garden at The Commons at Ormond Collective (Melbourne), Dom's Social Club and (Melbourne' CBD), Hobsons Bay Hotel (Williamstown), Howlerwood (Brunswick), Trouble in Dreams (Footscray), Bijou Bottle Store (Melbourne CBD), The Mighty (Moonee Ponds), Harlow Rooftop (Richmond), Urban Ground / Saint Felix Distillery (Mordialloc) / Village Wine Bar (Albert Park), Baby Snakes (Footscray), Waxflower Wine & Vinyl (Brunswick), 14 Days of Cheese (Port Melbourne), Sol & Luna (Port Melbourne), Rubi (St Kilda), Goldy's Tavern (Collingwood), Itty Bitty (Richmond). Did we miss any? Let us know.