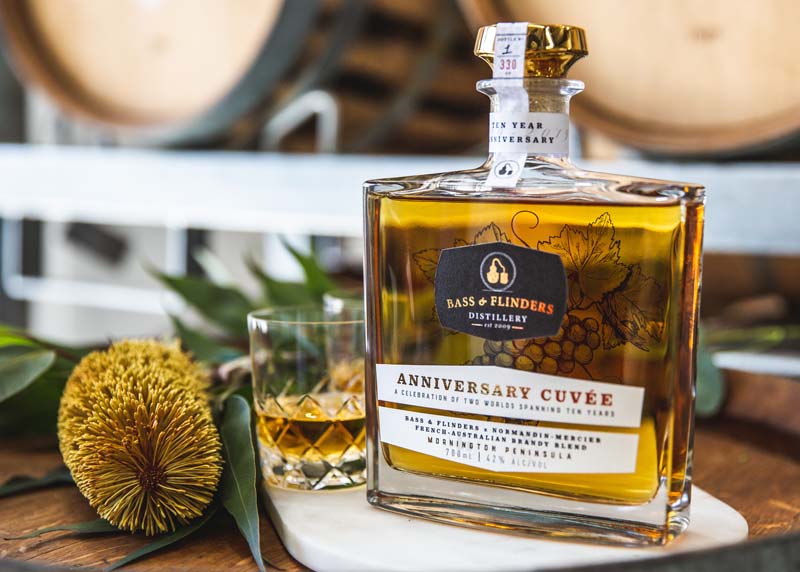 Celebrating their first decade, Bass & Flinders are hosting a 10th Anniversary Soirée on Saturday 16th November at their Mornington Peninsula distillery (rsvp here). Expect local cocktails, canapes and live music to capture the birthday spirit! Soiree guests will enjoy the privilege of first access to a rather special birthday surprise. Bass & Flinders have collaborated with French cognac house Normandin-Mercier to create an intercontinental, very limited-edition, Chardonnay-meets-Champagne brandy release called 'Anniversary Cuvee'. Limited to 330 bottles ever, party-goers have early access to taste and own the first 50 hand-numbered bottles.
On the eve of their anniversary, we invited Bass & Flinders head distiller Holly Klintworth to share her thoughts on an element she believes is lacking in Australia's craft spirits landscape. "Single origin" is recognised as a marker of craft and quality across the realms of coffee, wine, chocolate, even single malt whiskey. Is a single origin ethos the next big thing in craft spirits? Holly explains why she believes it should be, below…
—
Why single origin might be superior
For us, single origin means using traditional methods, applying extreme attention to detail and knowing the origin of every ingredient that goes into a finished product.
The benefit of this to a distiller is being able to train their palette to ensure there's balance and consistency in every product. The fact that every new vintage of base spirit is different – and on a micro-level even every batch of gin is different due to natural variance in botanicals – means that our distillers need to exercise extreme attention to detail to balance the overall flavour, every time we create a new batch. It is a more challenging methodology and arguably less efficient in terms of gin production, however we take a holistic and extremely unique approach to the production of our spirits. From experience we know what to expect out of any given grape harvest to a certain extent – its yield, sugar, acidity, flavour profile, all the elements impacting the end product and quality.
Why you should seek out single origin spirits
The concept of single origin spirits when it comes to gin, and even brandy is extremely uncommon in the Australian industry and even around the world, apart from the premium brandies of France. It's a way for distilleries to differentiate themselves, especially from more mainstream spirit producers and reflects product quality and creativity. For the consumer, the in-house production of our single vineyard grape based spirits results in a product with added texture and extremely smooth mouthfeel. We also get to educate consumers by communicating our unique production methods.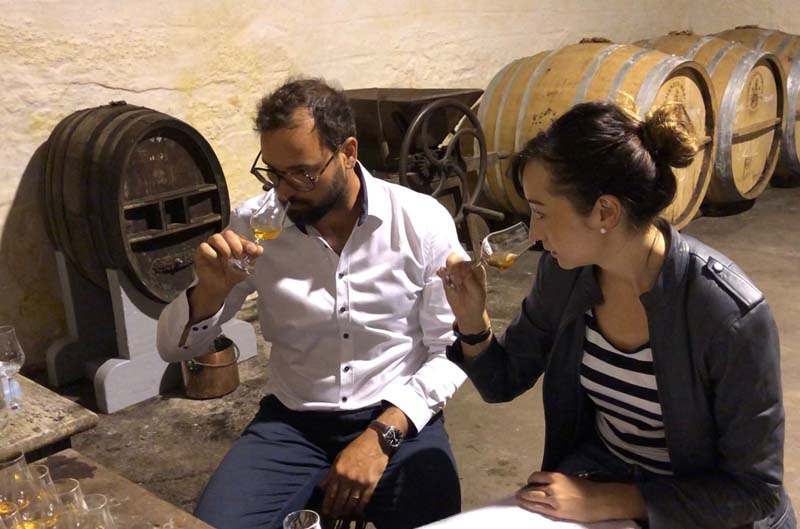 The Bass & Flinders approach
At Bass & Flinders, producing single vineyard spirits means a specific vineyard's grapes are allocated for our use each year. It's a concept that can be applied to wine and also unblended single malt whisky. We are able to work closely with the winemaker to exploit the grape quality and micro-climate of that particular plot, so that our grape-based spirit reflects the unique un-blended flavours and aromas of its source. Working with a single grape variety – Chardonnay for our brandy and Shiraz for our gins – we enjoy the extra creative effort in specifying the exact flavour profile we are looking for which we believe results in a superior, artisanal product.
When it comes to spirits, the most important aspects are consistency and for us, also being able to leverage particular characteristics of the source fruit. For our grape brandy Ochre we use a highly specified chardonnay base spirit matured in oak barrels for a minimum of five years before bottling. A Shiraz base spirit forms the basis for all our gins and we create consistency by using botanicals to balance the strong vintage variance of the base spirit itself.
—
About Holly Klintworth and Bass & Flinders
With a head for business and a palette for wine, Holly was the Global Brand Assistant at Treasury Wines Estate, then founded her own wine label. However – after experiencing Cognac methodologies and makers in France – Holly's focus soon shifted to the possibilities of distilling spirits with fruit and joined the family business at Bass & Flinders. Following in the footsteps of her founder father Wayne, Holly took over as head distiller (and managing director) of the distillery in 2016. She is also a board-member of the Australian Distillers Association.
Bass & Flinders Distillery is the first distillery on the Mornington Peninsula, now located in Dromana. Inspired by grapes and European methods, they create premium gin, brandy, vodka, liqueur and other boutique spirits.