For devotees of all things bittersweet (and abundantly boozy), Negroni Week is here! Nearly 150 bars around Melbourne are offering classic Negronis or twists – some that push the limits of what the gin+Campari+vermouth cocktail truly is. All are raising funds for their chosen charities including Oz Harvest, Wild Foundation, Paws and many more. From pineapple-infused to smoked to fermented to barrel aged, there are plenty of Negronis to explore. Here are a few of the highlights:
The Hottest
Harper Bar are clever, giving us a hot Patient Wolf gin Negroni with extra sherry and spices to warm us up mid-Winter.
The Laziest
You don't even have to leave you couch to indulge in Negroni Week this year. SPQR will deliver Curatif's Four Pillars Negronis in a can to your door (with pizza too).
The Sweetest
Among their quintet of Negroni twists, Clooney offers an edible one – a Negroni inspired dessert!
The Biggest
Hold up. The Espy are doing entire MAGNUMS of the cocktail. Take seven of your Campari loving friends to dine at Mya Tiger.
The Cheapest
The more you drink (responsibly), the more funds are raised. So it pays to find a deal. I think Pontoon and the Carlton Club are tied with $12 Negronis all week.
The Mostest
White Oaks and Gingerboy are going over the top – the each have an exclusive menu of seven Negronis and twists to try. The trick with White Oaks is that it's one variation per night.
The Funnest
Ferdydurke has me wishing for a cold snap. The price of their Negronis fluctuates this week, depending on the forecast max. temperature of the day.
The Smartest
Go deep with Miss Moses and Patient Wolf as they host a one night only Negroni masterclass. If you want something done right, learn to do it yourself.
—
Speaking of diy-ing; Spice Temple's Connor Whale has kindly shared his below easy twist on the classic Negroni recipe with us to celebrate the occasion. It's a Bubbly Negroni – why didn't we think of this earlier! They'll be serving this one up alongside a classic and a white Negroni all week long.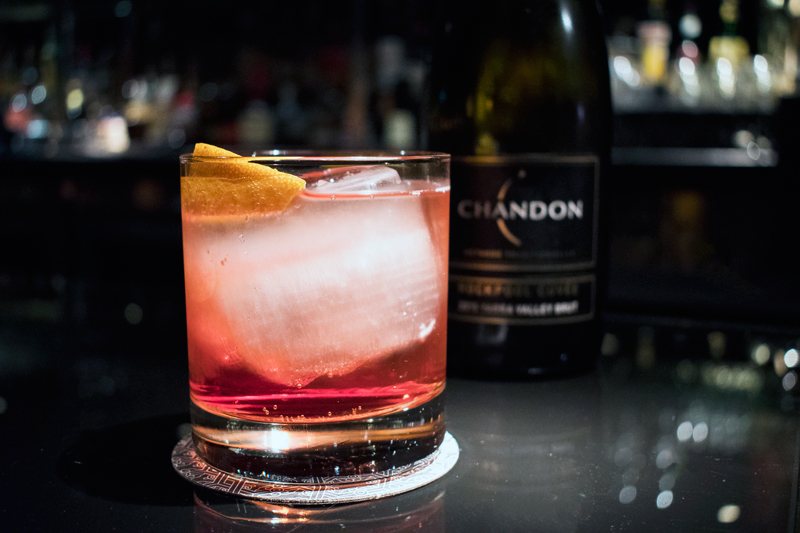 – Bubbly Negroni by Spice Temple –
– Ingredients –
30ml Campari
30ml Sweet Vermouth
75ml Sparkling Wine (they use Chandon Rockpool Cuvée)
– Method –
Add one large ice cube to a large rocks glass. Pour over Campari and vermouth. Top up with sparkling until about 1cm from the top of the glass. Garnish with an orange wedge.