Winter Igloo Garden at The Auburn Hotel
Here's where to go and what to drink in May! Follow our events page on Facebook for all the latest thirst-quenching happenings.
—
1. Winter Igloo Garden
A collection of translucent (all the better for people-watching) igloos will pop up in The Auburn Hotel's garden this winter. Each igloo is bookable for private groups and boasts a heart-warming, America Honey-inspired feast that includes bourbon-spiked honeyed hot toddys and Melbourne Rooftop Honey and choc honeycomb fondue to share.
From Thursday 2nd May, 12-9pm / Hawthorn East / Details
–
2. The Winter Village
Yet more igloos abound at Federation Square's Skyline Terrace. This European winter inspired wonderland is complete with pine trees, flurries of snow and a real ice skating rink. Order up Caramel Apple Hot Toddys or Spiced Cherry Spritzes from the 'Sip' bar to enjoy within your own igloo. Shots of cinnamon whisky and schnapps, DJs and pop-up bars complete the seasonal experience.
From Friday 3rd May / Melbourne CBD / Details
The Winter Village at Federation Square
3. Puppies & Pinot
Vinomofo hosts another of their dog-friendly (nay, dogs encouraged) wine parties at Welcome to Thornbury. There'll be free wine tasting, two types of wine-scream – ie. wine ice cream – and pooches dressed in their Star Warsian best (in ode to the date). There will even be pinot noir that's good for dogs. Don't forget to bring a gold coin to donate to Forever Friends Animal Rescue (winescream sales will also be donated to them, so lick away).
Saturday 4th May, 11am-7pm / Northcote / Details
–
4. Sugarcane Sunday
A new rum festival, by the Rum Club Australia, makes its Melbourne debut this weekend. At Captain Melville you can taste local and imported drops, meet the makers, take a masterclass and shop the market for bottles of rum and tiki-accoutrement. Island style food, kitsch cocktails by Loch & Key and the sounds of reggae will accent the tropical vibes.
Sunday 5th May, 1-8pm / Melbourne CBD / Details
–
5. A Night of Natives
Adelaide Hills Distillery brings their gins and other drinkables eastward to Union Electric for a one night only event. Join the distillery's head distiller for a three-course tasting of native Australian foods alongside custom craft cocktails. Can't make it that evening? How about a daytime discussion of sustainability and native botanicals over a G&T instead?
Monday 6th May, 8-10pm / Melbourne CBD / Details
Sugarcane Sunday at Captain Melville
6. Good Beer Week
The beeriest festival of them all is just around the corner. As usual, there are plenty of things to see, do and taste that goes beyond basic beer. Here are just a few of my favourite beer happenings featuring beer-inspired cocktails, Teddy & the Fox gin matching, rum, mezcal or tequila pairings, cocktALE making, a gin showdown, all of the boilermakers and beer that's become better than beer.
10-19 May / Various locations / Details
–
7. Dante NYC comes to Rockpool
Famous New York bar Dante arrives down under for a series of drink-centric events. It all kicks off with a cocktail party at Rockpool's Alfred Place complete with Neil Perry snacks and DJ tunes. In the days following, Dante's twists on the classics – martinis, spritzes and negronis – are then showcased at sessions happening at Alfred Place and Rosetta.
13th May, 4-10pm / Melbourne & Southbank / Details
–
8. Off the Spectrum
Fancy Free bar has teamed up with event maker/food stylist The Baron Said to present this event that's part edible art installation, part immersive cocktail experience. It promises to be a little off kilter and a whole lot sensory. Don't come with preconceived notions aside from enjoying bites, sips, colour and light.
Thursday 16th May, 6.30-11pm / Melbourne CBD / Details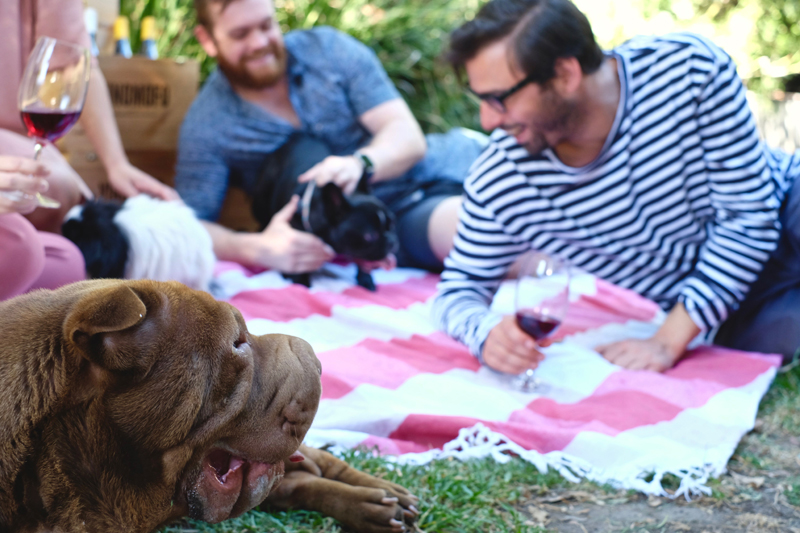 Puppies & Pinot at Welcome to Thonbury
9. Above Board takeover at Iki-jime
If you haven't yet found the pioneering-yet-hidden bar that is Above Board in Collingwood yet, this happening will make it a whole lot easier. The bar is collaborating with Shannon Bennett's Iki-jime seafood restaurant for a four course dinner in the city; with curated original cocktails to match each dish naturally.
Saturday 25th May, 6.30pm / Melbourne CBD / Details
–
10. World Gin Day Dinner
The Gin Queen celebrates World Gin Day 2019 by inviting five of her favourite master distillers – from Poor Tom's, Adelaide Hills, Brogan's Way, Big Tree and Melbourne Gin Company – and you to dinner. The occasion, at Arc One Gallery, is set to be a sprawling feast accompanied by five gin cocktails from the respective distilleries.
Thursday 30th May 7-10pm / Melbourne CBD / Details
—
You can also keep up with What's On all around Melbourne with our dedicated Instagram highlight.
Good Beer Week returns in 2019