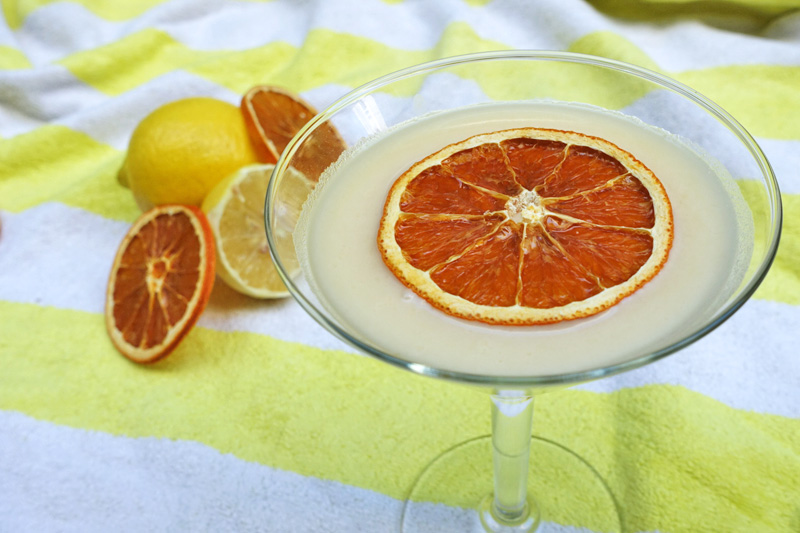 Orange and lemons. The bells of St. Clement's…
That nursery rhyme was running through my brain while experimenting with this cocktail recipe for reasons that will become obvious. I even mused over calling it a 'St Clement's Cocktail' for a while until I found out a mocktail exists by the same name (and we can't abide by that now can we).
Instead, may I present The Citrus Grove Sour. It's all spritely lemon flavours tempered with the satiny, butteriness of the curd. It captures a little lingering sunshine as we move deeper into autumn.
Look for a gin with heavy citrusy notes to include here. Kilderkin Distillery's Larrikin Sunburnt Country Gin – that I've chosen for this drink – has lemon myrtle, lemon aspen, native blood lime, desert lime and finger lime botanicals. You can switch the superfood extract out for your favourite citrus bitters if you prefer. And do note that the orange liqueur used in this cocktail recipe isn't a triple sec; it's more like an orange version of limoncello!
– The Citrus Grove Sour –
– Ingredients –
40ml Pietro Gallo Liquore all'Arancia
40ml Larrikin Sunburnt Country gin
40ml lemon curd
30ml freshly squeezed lemon juice
3-4 drops The Australian Super Food Co lemon myrtle extract
Dehydrated orange slices, to garnish (we cheated and sourced ours from The Cocktail Shop)
– Method –
Combine all ingredients, except garnish, in a shaker and dry shake (without ice). Add a big scoop of ice and shake again until chilled, about 20 seconds. Taste for sweet/sour balance – add a little more gin or juice to taste to dry it out if needed or a little more curd or liqueur to sweeten further. Double strain into coupe glasses. Float an orange slice on top of each. Serves 2.