Here's all the news that's fit to drink this month…
– Congratulations to all of the winners at last night's 2019 Time Out Melbourne Bar Awards: Congress (best bar food), Clooney (best new bar), Kirk's (best wine bar), The Everleigh (best cocktail bar and bar of the year), The Elysian (people's choice), Jessica Clayfield of Gin Palace (hot talent), Union Electric (best bar team), Lewis halls of Bad Frankie (bartender of year)a and Tash Conte owner of Black Pearl (legend award).
– Did you know Natural History (pictured, above) has transformed itself into a pub…or "public house" if you're feeling fancy? Drinks-wise, it's a tap beer and natural wine situation. Plus, there's live piano by request on Thursday/Friday evenings to ensure the Collins Street corporates' knock-offs get off to a rollicking start.
– The Homeless Grapes Project has come to Victoria for the very first time. 100%(!) of proceeds from The Homeless 2018 Yarra Valley Chardonnay go to St Mary's House of Welcome in Fitzroy. It's made by De Bortoli Wines' chief winemaker Steve Webber. In the bottle are grapes donated from De Bortoli, TarraWarra Estate and Rochford Wines, hand-picked by volunteers. The taste? A "steely backbone…wrapped up in honeydew melon, grapefruit pith and almond croissant flavours." Get it now via Vinomofo.
– Australian mixer label Capi has debuted their own cocktail competition – including a zero proof cocktail component. Make sure your favourite bartender knows they can enter the Capi Open (and win a bar-hopping jaunt to Hong Kong and China).
– Congratulations to Never Never Distilling Co! Their 'Southern Strength Gin' was crowned World's Best Classic Gin at the recent World Gin Awards.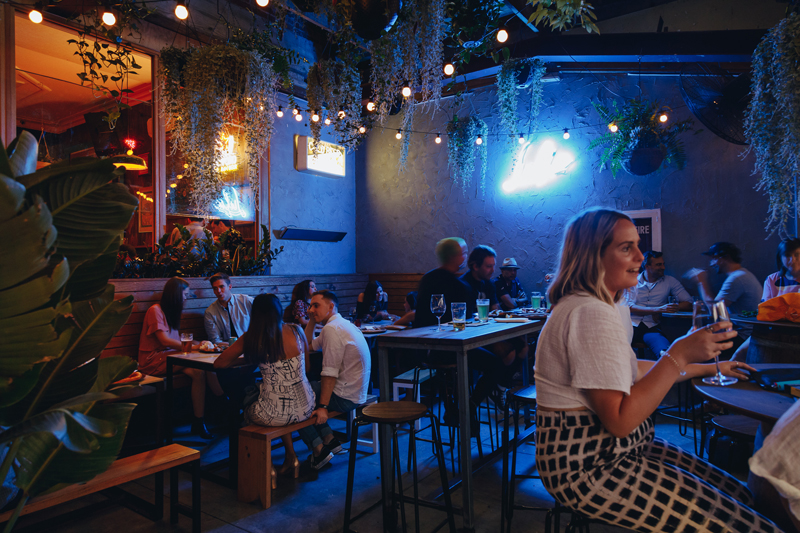 – Let your reality finally catch up to your over-inflated sense of self-importance by becoming the Mayor at Lulie St Tavern in honour of their upcoming 1st relocated birthday! While you won't be able to institute new rules and regulations, as the official Mayor of Lulie Tavern you will score a private party, reap year-long discounts and have your likeness enshrined on the bar's wall. Photo: Jake Roden
– Can a pop-up maintain a premium experience in Melbourne? Pinchy's kiosk (pictured, below) – just opened at Emporium – is going to "sea" if they can! They are now fueling your retail therapy sessions by pairing prawn, King crab or lobster rolls with your choice of brut or rose Veuve Clicquot Champagne or other Frenchy wines.
– The Gin Queen has created a savoury, juniper-laden signature gin (with a little help from Four Pillars) to mark her reign's fifth anniversary. It's a super limited edition run and can only be bought at auction here with 100% of profits going to the Queen's friend, and familiar hospo face; Alex Ross, who is currently fighting breast cancer.
– The minds behind The Everleigh, Heartbreaker and Navy Strength Ice Co are set to open a new basement bar in the city in coming months. Bar Margaux will be a bit New Yorker and a little bit Parisian, dining takes higher precedence than at their others venues yet plenty of true classic cocktails and Champagne remain the stars. Fingers crossed we'll have this cosy new haunt in time for Winter.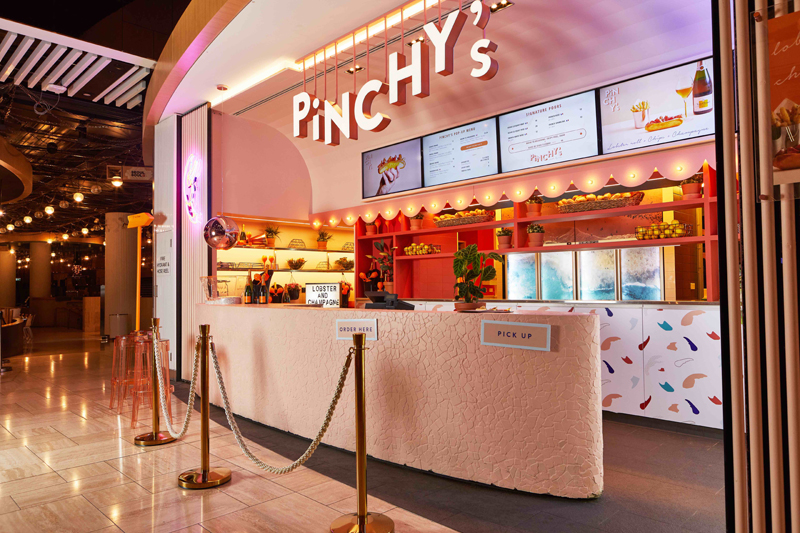 Got a hot tip for next month? Let us know so we can help you spread the word.