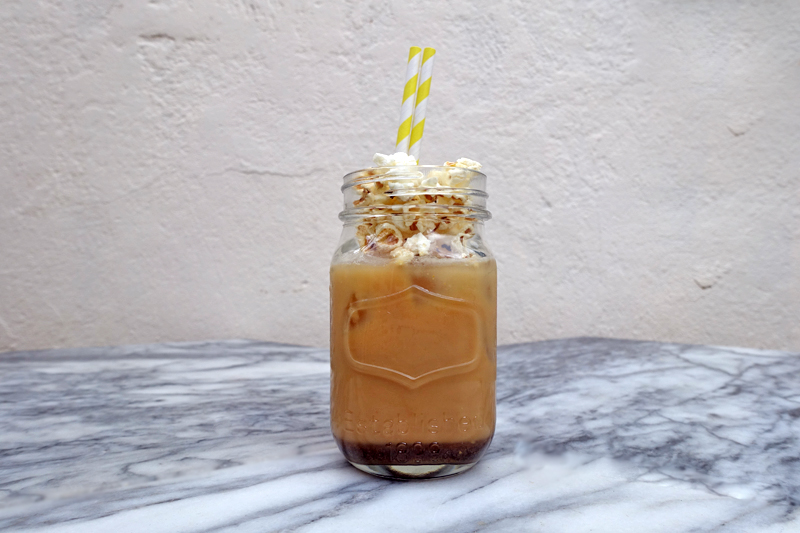 Tia Maria recently chose coffee from bespoke roaster Streat to showcase their collection of signature coffee cocktails in Melbourne. The (ridiculously good) Iced Popcorn Frappe recipe below is our take on one of those. The toasty, buttery popcorn, plus the subtle salt hit, pairs easily with earthy, smooth coffee.
You've probably tried Streat's coffee. You'd definitely have seen – or sniffed – one of their coffee carts around town, if not eaten at one of their cafes. The Melbourne-based charity aims to assist 1095 disadvantaged young people a year through hospitality training, support and opportunities.
So buy some beans, and start whipping up some supercharged cocktails to help them out! With the recipe, you'll have extra popcorn syrup left over. Luckily it works great over ice-cream, replacing the sugar syrup in an Old Fashioned or mixed with spiced rum and soda. Or just eaten with a spoon.
– Popcorn –
– Ingredients –
1/2 cup popcorn kernels
1 tablespoon olive oil
1/2 tsp sea salt
2-3 tablespoons salted butter
– Method –
My fail safe popcorn recipe…Add three kernels and oil to a large pan with lid. Cover and place on high heat. Once the kernels are popped remove from heat and quickly add remaining kernels, butter and salt (cayenne pepper and cinnamon are also good additions if you're feeling experimental). Replace lid and shake for ten seconds. Place on heat. Once the kernels start popping, shake the pan constantly over the flame/heat source until the popping slows right down. If you remember, you can open the lid slightly a couple of times throughout to release any steam for crispier popcorn.
– Popcorn syrup –
– Ingredients –
6 cups popcorn
1 cup caster sugar
1 cup water
– Method –
Place popcorn in blender. Add sugar and 1 cup water to a saucepan. Stir until sugar dissolves and small bubbles appear. Add to blender (the popcorn will melt) and blend for one minute. Strain through a fine sieve and keep refrigerated until use.
– Iced Popcorn Frappe –
– Ingredients –
50ml coffee liqueur (we used Tia Maria)
60ml espresso (made from ethically-sourced coffee like Streat's award-winning 'Social' blend)
50ml milk
20ml popcorn syrup (if you are too lazy to DIY you can use Monin Popcorn Syrup)
Fresh ice
50ml extra coffee liqueur
Fresh buttered popcorn
– Method –
Add 50ml coffee liqueur to your serving glass (a jar, Irish coffee or sundae glass looks suitably festive here). Add the rest of your coffee liqueur, espresso, milk and syrup to a shaker with ice. Shake until frosty. Add fresh ice to fill your glass. Strain in your cocktail mixture and top with fresh popcorn and straws (we recommend metal or recycled paper straws). Stir the mixture before drinking – the popcorn melts like magic!