Here's your hit-list of new bars to haunt this April!
1. Whitehart
A chef and a filmmaker convert an old carpark into a two storey shipping container bar. How Melbourne is that? Visual art and rotating food vendors complete the picture.
22 Whitehart Lane, Melbourne
–
2. Xm4
The little pink cafe that could now has a licence and late(ish) night bar! Cheese, charcuterie and ploughman's platters accompany the G&T vibe.
143 Chapel Street, St Kilda
–
White Rabbit Brewery is now the new headquarters of Innocent Bystander. Crowd-pleasing pizzas and paella are back on the menu, along with their famous pink moscato. Most of the wine is on tap!
316 – 334 Maroondah Highway, Healesville
–
4. Souk
Move over pan-Asian eateries. Souk turns the pink neon spotlight towards Arabia. Try the Omar Sharif cocktail; it's reminiscent of Turkish Delight and scattered with Persian fairy floss!
13 Bligh Place, Melbourne
–
It's a store, an apartment and now it's a wine bar! Lifestyle concept boutique Tanner + Teague has added a bar to their covetable lineup of buyable fashion and homewares. Retail therapy just got so much better.
266 Brunswick Street, Fitzroy
–
Here's another new inner city brewery and tap room to add to your weekend rotation. How can you go past ordering their "The Dark Lord" black IPA? You can take your dog too!
40 Sackville Street, Collingwood
–
7. Uncle Joe's
Joe's Shoe Store welcomes a new addition to the family with Uncle Joe's. This loose wine bar serves up pizza from next door, vinyl on rotation and Patti Smith wallpaper in the bathrooms!
325 Lygon Street, Brunswick East
–
8. Hogget
Two winemakers are better than one (we're hoping it means twice the wine!) Bill Downie and Patrick Sullivan have opened Hogget, a restaurant, vineyard, winery and cellar door way out East. Artisan meat and carefully crafted wine sounds like a good excuse for a roadtrip to us.
6 Farrington Close, Warragul
–
9. Rare Hare
Autumn roadtrips are firmly on the agenda this month. Rare Hare (picture by Dan Hocking, above) is a winery so the vino is the star here. But don't discount the blink-and-you'll-miss-it cocktail list; a round of Smoking Trout Bloody Marys will do us nicely!
166 Balnarring Road, Merricks North
–
More new things to try this month: If the Australian Distilled Spirits Awards were the Oscars (they are to us!) then High Spirits by Winning Tastes is the Vanity Fair after-party. It's your chance to try a selection of the newly-awarded local tipples at a series of pop-up cocktail bars by some of Melbourne's best bartenders. Join us! / Tell your favourite bartender to enter the inaugural Travelling Tales Cocktail Competition by Southern Comfort and they could soon be on their way to New Orleans. / Melbourne Public has just introduced a new menu of Espresso Martinis on weekly rotation. Forget the Irish Cream, Jaffa and Salted Caramel – we want the Fireball! / Tasmania's Southern Wild Distillery has launched three Dasher + Fisher label gins inspired by surrounding nature titled mountain, meadow and ocean, Ocean, in particular, sounds intriguing with hints of wakame seaweed, salt, fresh rose petals, nori and jasmine. Gimme.
Got a tip on a new bar opening soon anywhere around Melbourne or any other delicious tidbit? Let us know now and we'll spread the word when the right time comes: sarah@drinkmelbourne.com.au
Hogget. By Tim Grey.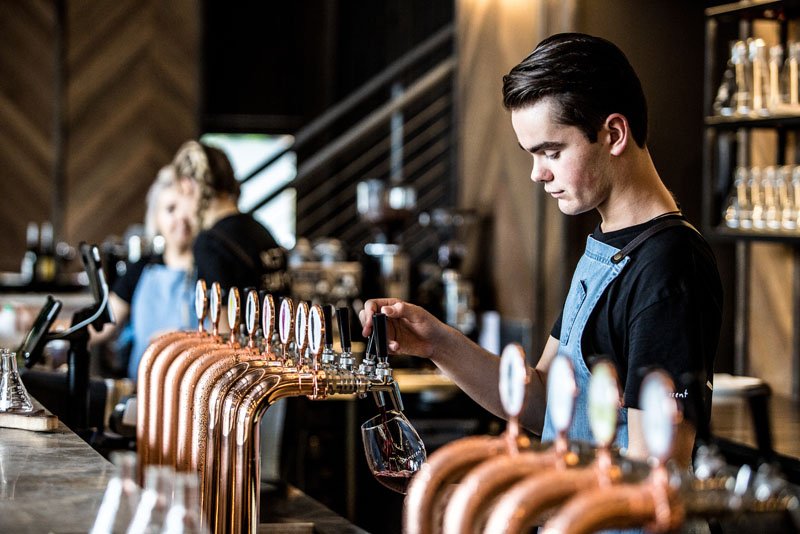 Innocent Bystander.
Souk.
Whitehart.
Southern Wild's Dasher + Fisher gin.
 Melbourne Public's Espresso Martinis