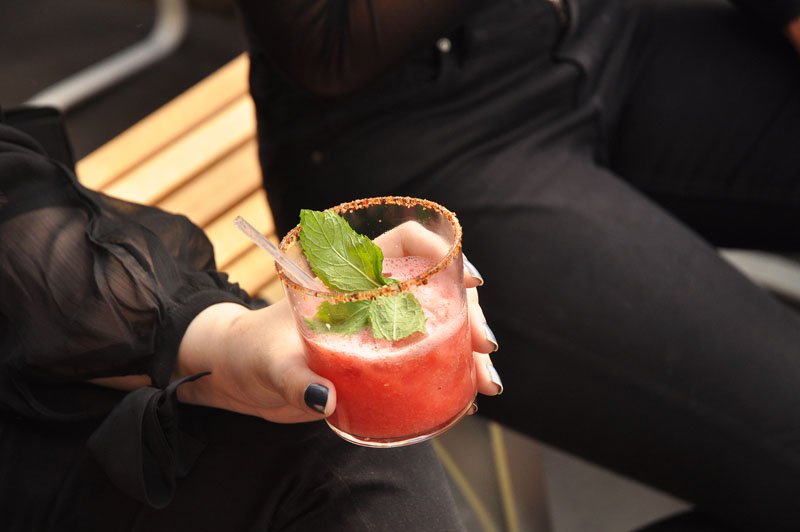 14 new drinking dens have opened around Melbourne in the past month. Here are the beer, wine, whiskey and cocktail bars to get to know right now, in no particular order…
—
1. Overlook 
A classic night out at the theatre gets even better as the Astor Theatre welcomes Overlook for your pre and post-show tippling needs. You can play drinking games by counting how many of the old movies you've actually seen from the vintage posters adorning the walls. Bonus points to the only cinema we know of that lets you take your drink in outside of premium classes.
3-5 Chapel Street, St Kilda
–
The drinks here will set you straight. With fermented ingredients a specialty, cocktails at House of Correction are numbered not named and the line up changes once a month. Don't let the austere interiors fool you, these delectable tonics are not medicinal (not that you need an excuse to drink more than one).
254 Swanston Street, Melbourne
–
3. Bang Bang RC
Inside is lushy leafy, but you'll want to score an al fresco table anyway. Overlook lush rolling lawns with a Vermouth Spritz in hand and crispy chicken ribs in your belly at Bang Bang (pictured above), which has taken over an old Rifle Club. It's handily parked right next to the station, so no designated driver required.
294 Glenhuntly Road, Elsternwick
–
4. Greenfields
A Sunday session at Greenfields is a new Melbourne must do when you are in a chi chi frame of mind. They'll have a fancy bbq or Champagne picnic hamper awaiting your arrival. Aside from spring garden cocktails, there's also croquet and giant chess to be played.
37 Lakeside Drive, Albert Park
–
Josephine is the craft beer destination it seems the west has been greedily waiting for. The weird and wild brews featured on her dozen taps change frequently and there's a rather relaxed beer garden out the back.
295 Barkly Street, Footscray
–
6. Los Vida
Mezcal is the order of the day at Los Vida. Tucked away out the back of the recently revamped St Collins Lane, this little Mexican bar offers refreshment in between retail therapy sessions via Salted Watermelon Margaritas no less. Don't forget to look up (be sure not to fall off your bar stool); the ceiling is bad ass.
260 Collins Street, Melbourne
–
Two of our favourite things – gelato and wine – combine at Barbarella in the CBD's Block Arcade. The team from The European have recreated a, well European, feeling here with house-made frosty treats and Prosecco encouraged at all hours of the day.
282 Collins Street, Melbourne
–
The Jungle Boy and Boston Sub team returns a Cuban beat to Richmond since Bar Economico/Exuberante packed up and left. Grab a rummy El Presidente, a mini-cigar and be instantly transported to the Caribbean.
438 Church Street, Richmond
–
Also new for Richmond (though at the other end) is Plan B which has had a lick of paint and is now newly rechristened as Bowerbird. All of their beers and wines are Victorian which puts them in our good books immediately, plus there are crave-worthy sandwiches to soak up all the local goodness.
274 Bridge Road, Richmond
–
More Whisky & Alement is not a bad thing; say hello to their Melbourne Whisky Room, now living upstairs from their original CBD stalwart. They've stocked up on rarities, vintage and independent whiskies for this haunt, set to a soundtrack of soulful vinyl. That's music to both our ears and tastebuds.
270 Russell Street, Melbourne
–
11. Holy Moly
They've dubbed themselves a "pizza pub". We're calling it a Boston sports bar meets disco on steroids. The Pollo (chicken, spring onion, corn, bechamel sauce) may sound weird but it may just may be the best chicken pizza we've ever tasted. The lemon curd cocktail is the only thing with Bill Cosby's name on it that you'll want to put in your mouth. Should be a winner with the college crew nearby.
660a Glenferrie Road, Hawthorn
–
When you've started spending too much time at Josephine's (above) consider skipping over a suburb to see Jimmy. With over 100 beers on rotation the focus here is craft brews and whatever small batch spirits they can source. We so want to try beer infused with raspberry, chocolate or plum!
164 Union Road, Ascot Vale
–
13. The Swamp
Bar Ampere has had a secret room known as the swamp room for ages. But it's now grown up into a fully fledged bar of its own: The Swamp. Modeled on a Deep South piano lounge, the Americanised backbar makes stars of bourbon and moonshine. Leave your pick-up truck at home.
14 Russell Place, Melbourne
–
14. Lee Ho Fook
Lee Ho Fook has opened a same-named bar inside their CBD restaurant for more cocktails, less waiting and the quality Chinese bites they are known for. Look for the red glow.
11-15 Duckboard Place, Melbourne
—
Got a tip on a new bar just open or opening soon anywhere around Melbourne? Let us know now and we'll spread the word when the right time comes: sarah@drinkmelbourne.com.au
Overlook. Photograph by Charlie Kinross.
Los Vida
House of Correction
Holy Moly. Photograph by Alexandra Drewniak.
Greenfields. Photograph by Lisa Crooks.