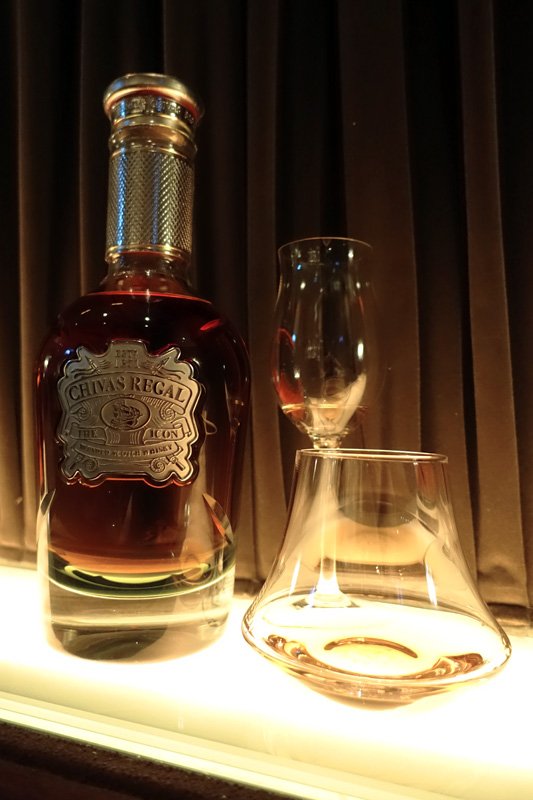 What does a $4,699 bottle of whisky taste like? Collectors and devotees now have a limited chance to find out as Chivas Regal unleashes just 30 of 2015's limited release of 1500 bottles of its new luxury blend – 'The Icon' – on Australian shores. The Icon is the whisky house's new pinnacle which merges a dream range of rare, old and even lost Scottish whiskies from the likes of Strathisla, Longmorn and Glen Keith.
Chivas Regal Master Blender Colin Scott (who, interestingly, always takes his whisky with 50% water) describes the aroma as "sweet orange, peaches in syrup, hazelnut nuttiness…heady summer floral fruits all playing together". Due to the inclusion of whiskies from extinct distilleries Colin explains that in "a few precious drops" of the Icon you will always be able to taste "one or two little gold nuggets of flavour that you'll never taste again…I can't quantify it for you but it's in there".
The Icon is presented in a crystal decanter hand-blown, etched and crafted by Darlington Crystal in England's South. A metal-work label and leather case offset the hefty bottle with its subtle green tint: a nod to Chivas' pre-1961 green glass bottles. Its weighty appearance gives further justification for the premium pricetag.
For the rest of us who might not have the spare change on hand at the moment, there's the below cocktail to enjoy. As Colin says "As far as I'm concerned once you've got your Chivas Regal in the glass our job is done. It's really up to you as to what you do with it to give you the most pleasure".
Whisky Honey & Ginger Sour (inspired by The Waiting Room)
1 cup honey
1 cup water
fresh ginger slices, to taste
90ml whisky (we use Chivas Regal 12 year old)
60ml non-sweetened or fresh-squeezed apple juice (go for more sour varieties if making yourself)
Make a simple honey syrup buy adding water, honey and ginger (I like lots) to a small saucepan. Bring to the boil, turn down to a simmer and stir until honey is completely dissolved. Cool completely. This makes a big batch. Add 90ml whiskey, juice and 30ml of your honey syrup to a shaker with fresh ice. Shake until chilled (taste and adjust for sweetness/acidity). Strain into two chilled coupe glasses.