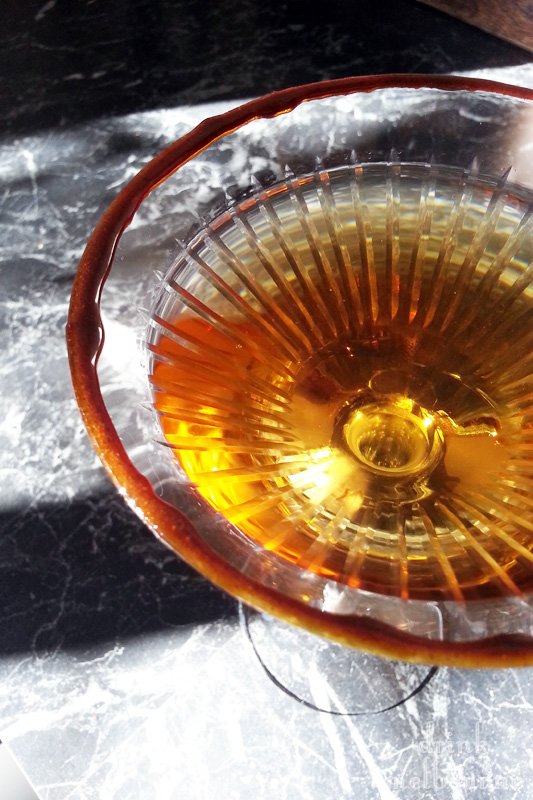 I was asked by a friend to make gingerbread martinis for a gathering but I've yet to find a drink in a recipe book or bar that really captures the headily spiced toothiness of proper old-fashioned-gingerbread. So I decided to concoct my own tipple! Since I protest at calling anything without a gin or at least a vodka base a "martini" simply because it comes in a ccoktail glass, I shall dub this 'The Gingerbread Woman' instead of 'man' as, with the addition of French and Italian liqueurs, it just feels more woman-ly to me (yes I know I shouldn't be gender stereotyping edible things, but just hush down and make out with one of these under the mistletoe and you'll soon forgive the faux pas).
The Gingerbread Woman
300ml Stone's Green Ginger Wine, chilled
200ml Frangelico, chilled
2 Tbs Domaine De Canton French Ginger Liqueur, chilled
2 Tbs treacle (or molasses or golden syrup)
1/2 tsp ground cinnamon
1/4 tsp ground nutmeg
A pinch of ground cloves
A pinch of ground chilli (optional)
fresh ice
Place treacle and spices in a small saucepan and heat, stirring over low flame until fragrant and runny. Pour into a shallow dish to cool. Upend your martini glasses into the platter of spiced syrup to rim the edges and refrigerate for a few minutes. In a jug filled with ice add green ginger wine, Frangelico, ginger liquer and stir gently. Strain into prepared glasses and have a very merry Xmas season indeed. Makes 4-6 depending on how festive you're feeling.