For a place that's known more for its fine dining (try chef Nic Poelaert's Vegemite cracker with dehydrated kale – you won't regret it) than it's bar, Brooks sure knows how to make a lovely tipple. Bar meister Shae Silvestro works closely with the chef to create aperitifs and digestifs that play well with food though I can happily forgo dinner and stay entrenched on my barstool here too. One of the newly released cocktail creations Shae has come up with for Spring is the 'Sloe Coach'. "I've created this drink to match one of Nic's dishes: spatchcock with fresh mulberry and mulberry powder", explains Shae. It includes "Byrrh [pronounced "beer"] a wine based aperitif that I discovered while looking for things from France. If you think of Cassis and sweet vermouth that's the sort of flavour it has which works really well with sloe gin, and a little bit of anise/pastis in the drink as well."
Of the wider Spring offering Shae says, "at the moment I'm loving everything French, champagne in particular for champagne cocktails." Which is  happy thing as Brooks' head sommelier Matt Brooke is hosting 'Sparkling Season' flights of imported Champagne and local sparkling wines matched with seasonal bites from now until November 8th. Simply turn up at the bar to enquire.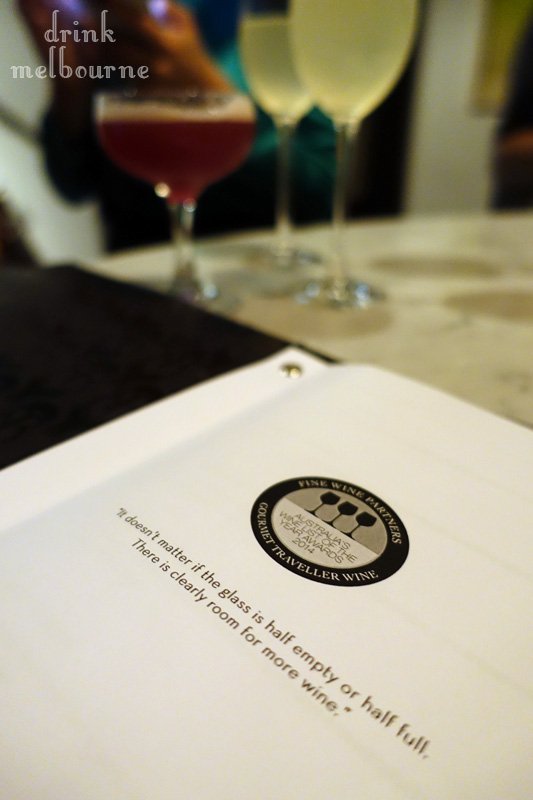 —
Sloe Coach
30ml Byrrh
30ml Sloe Gin
5ml Pastis
22ml lime juice (accuracy people!)
22ml sugar syrup
Shake all ingredients with ice and strain into a coupette glass.
Find Brooks in the basement of 115-117 Collins Street, Melbourne (enter via George Parade).